You're passionate about darts, you enjoy the thrill of the game, and you like to have a beer while playing? Well, it seems like a bar is a perfect place for you when it comes to playing darts. However, you might not know a lot about bar style dart boards. That's why we're here. Today we'll tell you all you need to know to get familiar with bar style dart boards.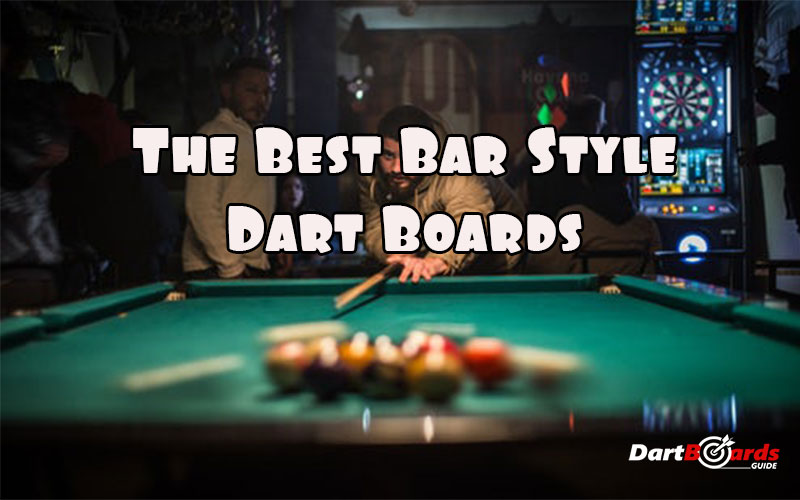 READ NEXT: Magnetic Dart Boards
Types of Bar Style Dart Boards
It's important to know that there are two kinds of bar style dart boards; it all comes down to commercial and free versions of bar darts. When talking about the commercial dart board, we are thinking of the coin-operated bar dart machine, where you have to pay to play. In other words, the bar owner cashes your passion for darts.
On the other hand, there is what we call the free version. We are actually talking about bristle and electronic dart boards, present in many different bars all around the world, that doesn't require paying so you could play. It is just the genuine love of the game available to all the true darts lovers.
READ NEXT: Dart Boards For Kids
When talking about a bar room dart board, it is safe to say the players prefer the free versions, where they can enjoy the game without having to worry about anything else. However, there is a special spark when it comes to a commercial dart board as well, since it is more vivid in terms of sounds and lights that accompany the game.  Furthermore, if you're in a bigger group of people, paying can more easily be divided into fair parts, so the expense is not so big.
That being said, it is time to move on to the list of some of the best bar style dart boards for sale. Stay tuned!
READ NEXT: Cheap Dart Boards
Best bar style dart boards
It is needless to say it is up to you to choose which bar dart board you prefer, we are just here to help you choose the one which suits you best. So, let's start!
Arachnid Cricket Pro 650 Standing Electronic Dartboard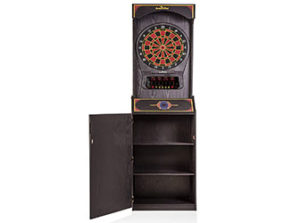 This electronic dart game is put in an arcade-style cabinet which gives it a more posh look.7-foot tall free standing cabinet has an extra storage space which will come handy for sure. Moreover, this set has 24 games with 132 options and 5 Cricket games; to top it off, it can accommodate up to 8 players.
As an additional extra, the LED display that registers the scores is here to keep your mind off anything else but the fun of the game alone. This arcade dart board seems like a great solution for a popular neighborhood bar. Surely a choice you won't regret.
Shelti Eye II Electronic Dart Board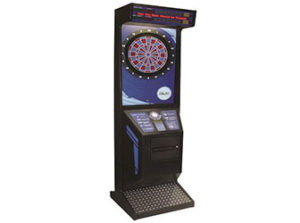 This bar electronic dart board has a phone-Style Keypad, as well as LCD Menu Operation. Plus, it has an auto manual player change which is a great option available. Moreover, you can enjoy multiple games and game options that will live up to anyone's taste for sure. To make your life easier while playing, there is a highly visible overhead target. As an extra bonus, we must mention the transportability; this great set can easily be folded in half, which makes the transport that much easier. After everything being said, this truly is a great bar style dart board.
Hathaway Outlaw Free Standing Dartboard and Cabinet Set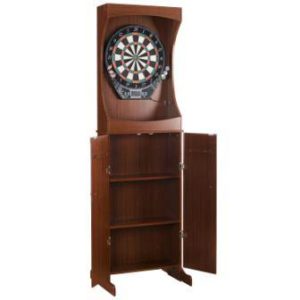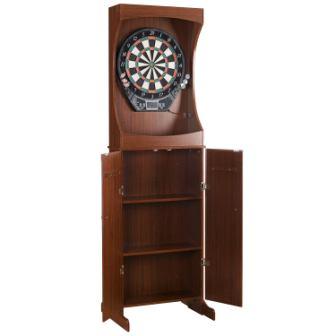 This bar style dart board set includes a 15.5-inch electronic dart board with LCD display;Furthermore, it comes with 2 flights of soft tip darts, 3 per set, as well as 6 spares tips for your complete enjoyment, it includes 29 games with 90 variations, so it's safe to say you won't get bored with this one. As it is a cabinet, it has a 3 shelf storage, so you can fit everything you need in there, a great way to keep your darts things in one place.
To finish it off, you can choose between freestanding leg supports or a wall mount option. Definitely one of the best bar dart boards for sale.
Arachnid Cricket Pro 800 Standing Electronic Dartboard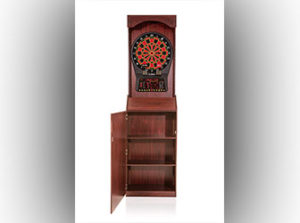 This bar electronic dart board is a CricketPro 800 tournament soft tip dartboard. It comes with an 8 player score display; while 4 of the scores can be shown simultaneously, which is great if you have a big group of friends who love darts just as much as you do.
Moreover, it includes 7 cricket games for those cricket lovers, so they can choose which one they like best. As an additional extra, this bar dart board has an optional 3 level Heckler. All one can need for a relaxing darts session in his favorite bar. What more could you wish for?
Spider 360 Galaxy 3 Home Edition Dartboard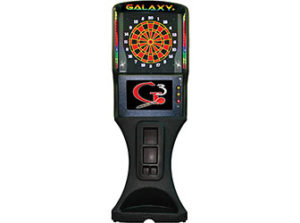 This bar dart machine, features a tri-color LED illumination that eliminates all shadows. Moreover, it has eye-catching visual effects that make the game even more fun. The dartboard included in this set is designed with a 19-inch wide LCD flat screen monitor for a better visual experience. There are some other great features included; such as multiple game options, auto or manual player options, as well as a single or double bull option, 25/50, which makes the game even more versatile and exciting. In addition, the set comes with 6 darts and 500 pieces of soft plastic tips, so you can enjoy the game all you want. A great choice for some good fun at the bar; isn't it?
Fat Cat Mercury Electronic Soft Tip Dartboard Cabinet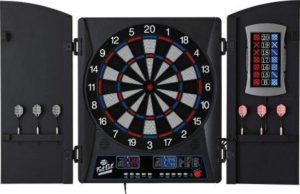 This bar dart machine includes 34 games and 183 scoring options. Moreover, it has a cyber play with 5 skill levels and can accommodate up to 8 players. So you and your group can have all the fun you want. Another plus side is the concave segment holes and an ultra-thin spider that help to prevent any possible bounce outs for your safer experience.
It comes with an easy to read control panel, with an LCD front display and an extra large LCD cricket scoreboard on the inside of the door. As an extra, it includes 6 darts, 6 spare tips, as well as an AC power adapter, mounting hardware, and a game manual. A great choice for a bar dartboard, even more, when you know it comes with a 1-year warranty.
  Viper Neptune Electronic Soft Tip Dartboard Cabinet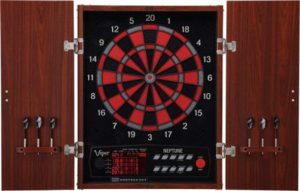 This bar electronic dart board comes with an ultra-thin spider which greatly reduces all of your bounce outs, thus enabling closer dart groupings and giving you the chance to maximize the scoring. Its built-in storage can accommodate 2 sets of darts and extra dart points. What's even better, it features 57 games with 307 options and it is suitable for up to 16 players. In addition, its large missed dart catch ring is a great protection for your wall from your bad throws
To top it off, the bright LCD display delivers a great, clear view of both scoring and statistics, eliminating the need for manual scorekeeping. Possibly one of the best bar dart boards for sale.
 Winmau Blade 5 Dual Core Bristle Dartboard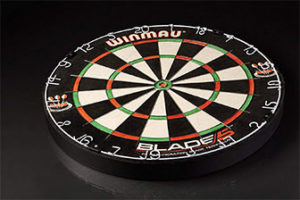 This bar dart board is a professional bristle dartboard with exclusive British Darts Organization (BDO) endorsement. It has an increased scoring area with 14% thinner wiring system, which then gives it a higher scoring potential all in all. What's even better, it reduces bounce-outs and has an improved dart deflection with a 30-degree reduction in a razor wire angle. That being; it is a great choice for those players who truly enjoy darts and have some experience in it since they'll be able to enjoy the good parts of this bristle dartboard to the fullest. So, let your bar be the most popular darts bar in the neighborhood, thanks to this amazing bar style dart board.
Imperial Officially Licensed NFL Merchandise: Dart Cabinet Set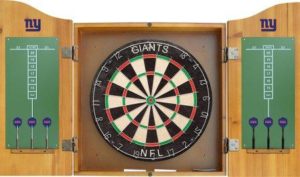 Think you can't combine two passions? This bar style dart board cabinet will prove you wrong. Take your game to the next level at your favorite bar, with the officially licensed NFL dart cabinet set. This amazing set includes steel tip bristle dartboard and darts for your total enjoyment. Moreover, it includes two chalkboard scorers, chalk and eraser; so you've got everything you need. This dartboard cabinet is highlighted by team logo on the door, positioned to proudly show your team spirit;
Moreover, the dartboard and the interior of the cabinet feature the team name and logos as well. All you need for a good game of darts and a proper team atmosphere. You surely can't go wrong with this one.
Conclusion
In the end, there's not much left to say but; choose according to your needs and desires. All the mentioned bar style dart boards are amazing, but the question is which one is the best for you?  Choose your favorite bar room dart board and enjoy your game of darts to the fullest, you deserve it, and you know it!
READ NEXT: Best Dart Board for Outside Play