Every dart is a projectile that should keep its position until reaching the target. If a dart did not have flights, it would tumble in the air and most probably just bump into the target and fall on the floor. Flights keep a flying dart in a horizontal position and stabilize the trajectory of it. Thanks to stable motion, it is able to hit the dartboard with its pin front and pierce it. This way you will have an accurate hit and your score "memorized". But not all dart flights are the same. Best dart flights are the ones which emphasize your throwing style and approach to the game. Finally, darts help distinguish your darts from those of other players, so you can "fight for your colors". Your darts can feature awesome designs which can be tribals, country flags, simple color shades or various designs. Buying these flights you can personalize your plays and make you more recognizable in the local dart pub.
Choosing the Best Dart Flights
Dart flights shape is by far the most important feature. There are around 10 dart flight shapes but all of them can be simply divided into two groups: standard and slim. The in-game difference between the different shapes in the same group exists, but are less significant.
Standard flights
These flights have a shape similar to kite or a diamond. In a standard dart flight, the width is almost the same as the flight length. Standard flights require a player to give the dart more of a lift and less of the speed. Until recently, all dart flights had this shape. Standard flights usually have 2 or 3 wings. 4 wings design is somewhat less common as the idea is to reduce weight. Also, the more wings, the greater the risk of wing collision with previously shot darts.
5 x Mixed Sets of Harrows Carbon Dart Flights Standard Shape by PerfectDarts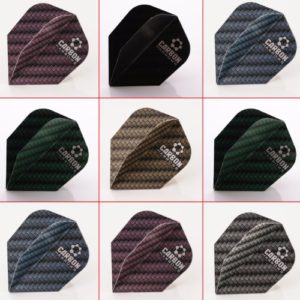 A simple set of five dart flights with three wings each. This set of standard flights is extremely thick and durable. Despite the name, it's not real carbon fiber, but the design resembles carbon fibers and the feeling of thickness will really leave an impression of actual carbon fiber. This is a smart investment that will last very, very long.
Winmau Rhino Long Life Standard Extra Thick Dart Flights (3 Sets of 3-9 Flights)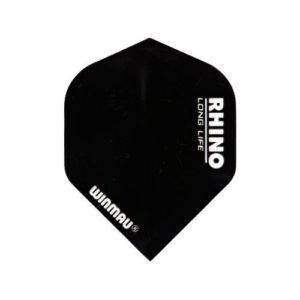 This is a value pack where you get three sets of three flights each. A giant variety of colorful designs. From country flags to skulls, you can have a pretty good choice. Winmau is a renowned dart gear brand from the UK where dart culture is well developed. The Brits simply make no compromises on dart equipment. Although not as durable as the previous ones, these are still among the best dart flights in the market.
3 Sets of Standard Size Pentathlon HD150 Dart Flights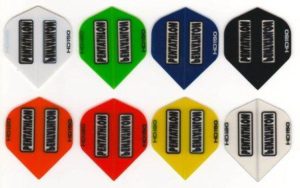 Pentathlon is another top-class British manufacturer of dart equipment. The Pentathlons are among the best darts and in use by pro players. But if you do not have their whole darts, you can at least enrich your existing ones with Pentathlon flights. Although a bit more expensive, this is also a value pack. Very durable, made of 150-micron plastics, this is one of the best ways to improve your gaming performance.
SLIM DART FLIGHTS
Many guys around prefer straight aiming, like sniping, instead of the lobs. This is perhaps not as beautiful as the standard way to throw a dart, but they still believe it is the best way to hit the desired area on the dartboard. If you are one of them, you can get your darts some slim flights. They are lighter and more aerodynamic. This design emphasizes speed and optimal weight allocation for powerful throwing.
5 Sets of Slim Size Pentathlon Dart Flights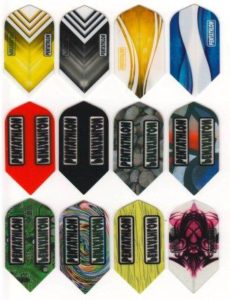 Short throwers can also have their Pentathlons. And these ones offer even more value than standard shaped ones. You get a pack of 5 x 3 flights with a great variety of designs. With a 100-micron thick plastic, this is one of the lightest dart flights around. Universal dart flights can be used with both steel tip darts and soft tip darts. A praised pack from the world-class maker known for best darts and gear. Made in the UK from dart lovers to dart lovers.
OTHER SHAPES
Besides standard and slim darts, there are other shapes that aim to get the best from the two worlds. But the differences are generally not so significant.
5 x Mixed Sets of Vortex Dart Flights Vortex Shape by PerfectDarts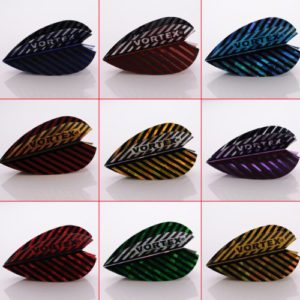 Among all these alternative shapes, the vortex might be among the best. This complex shape is a child of serious flight engineering calculations, and the aerodynamic is similar to those in fighter jets.  Be cautious, however, as these flights are bigger than standard ones. Buy this pack which still has a moderate weight. With a bit of learning how to throw with these, your performance can get a significant boost!
CONCLUSION
To choose the best dart flights for your needs, you first have to analyze your skills. Play around with darts with several kinds of flights. Borrow flights or darts with different flights from your friends and opponents to tell which one best fits your playing styles. Also, try to change the style a bit with different flights. Maybe there is a flight form which is better for you than anything you used before, but you just need to discover them. Definitely, not single flights are the best dart flights for everyone. It is more like an individual thing.