Keeping score for a darts game sounds pretty simple, but is it?
Well, keeping score for one or two players might actually be as easy as it seems. On the other hand, when you throw in 4, 5 or maybe 6 players into the game, things can get rather challenging. Moreover, you really don't want to put yourself in a situation where every player needs to keep track of his/her own score, because there is always that one person that might cheat. While, manually tracking each throw can get awful, real quick. There is actually no better way to keep people honest than by taking advantage of a good quality dart scoreboard.
There are different types of dart scoreboards; however, we can group them into three main groups.
Digital dart scorer, dart scoreboard apps, and dry erase scoreboard.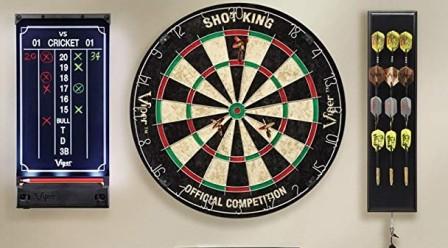 Electronic Dart Scorers
When it comes to digital dart scorer, it can keep track of scores for up to eight players in most cases, while some scorers can keep score for even more people. While there's a wide range of digital dart scoreboards available on the market, some offer more unique features than others.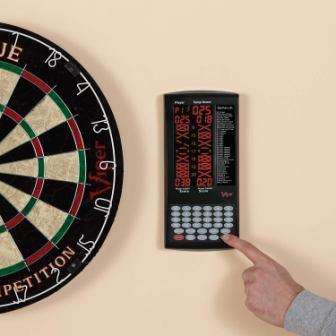 Some electronic dart scorers include an auto-shutoff feature. Meaning the scorer will switch off automatically when inactivity is detected for a certain period of time. Bright visibility is important as well, as you will not be sitting right next to the scoreboard.
One of the main reasons why people prefer digital scoreboards is because they eliminate chalk dust and with them, there's no need for chalk, dry erase markers or erasers.  In other words, these are fairly simple to use.
One of the downsides of the electronic dart scoreboards is that the majority of them only shows the last score for each of the players, which can make it quite hard to check previous scores. Of course, these scores can be recalled, but it is a bit of a process usually. These kinds of scoreboards are usually used for 301 and 501 darts game.
READ NEXT: Best 7 Kids Friendly Dart Boards 
Dart Scoreboard Apps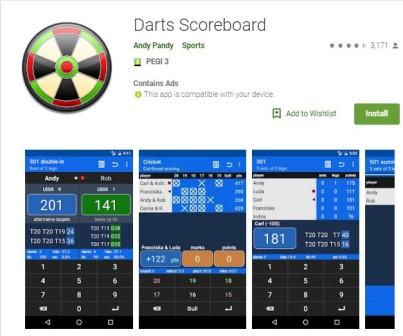 Let's move on to dart scoreboard apps. With this kind of app, everyone participating in the game will have access to the scores throughout the competition. You can download the app on your smartphone and enjoy the ease of monitoring the most accurate scoring.
The biggest downside of dart scoreboard apps is the fact that some of the best ones are not free, costing you anywhere from $1 to $5. Moreover, with so many to choose from, there's a good chance that not all the people you're playing with will have the same app downloaded.
Dry Erase Dart Scoreboard
The last type is the dry erase dart scoreboard. The dry and erase scoreboards are really popular and are therefore probably one of the most used types by beginners as well as intermediate players.
Dry and erase scoreboards are not only totally affordable, but they are easy to install and really versatile as well. While they are handy and seem like a perfect solution, you should know that they do come with some downsides as well.
For example, you always need to have dry erase markers and erasers, which is something extra that you're going to have to invest in if you choose this kind of dart scoreboard.
Moreover, you will have to make calculations in your head or have access to a calculator; which is a cool challenge to some, or an unnecessary hassle to others. It can be used for cricket dart scoreboard as well as 301 and 501 version.
Online Dart Scoreboard vs Offline Dart Scoreboard
It has come time to face these two types of dart scoreboards, in order to see which one would be a better option in general.  As today's world is all about apps and the internet, it is no wonder we have scoreboard apps, which can be downloaded in no time. Scoreboard apps can, therefore, seem like your perfect scoreboard solution.
However, you might want to consider buying an electronic scoreboard, or the most used type; the dry and erase scoreboard. But why should you do that, if you can have everything with one simple click to an app? Let's look at it this way; as perfect as a scoreboard app may seem, it can happen that not all the players have the same version you do, and it is only logical they will all want to keep track of the score.
If you all have different types of apps, that is not possible. Moreover, the best ones are not free, they come with a certain price, not always a small one; and while you're investing in a hobby, you might want to invest in something more palpable. When talking about something more palpable, the electronic scoreboard as well as the dry and erase scoreboard come in mind. As quick and easy the scoreboard apps may seem, the offline scoreboards are a great thing as well; maybe even a better one, since every player can be equally included in keeping track of the game, which makes the entire game that more fair.
Moreover, if you decide to go for an electronic or a dry and erase scoreboard, you have something visible, something that will testify to your love and passion towards the game, it is almost as an accessory in your home. Especially if you enjoy keeping track yourself and using your math knowledge; in that case a dry and erase scoreboard is your thing.
READ NEXT: Best 5 Magnetic Dart Boards
Custom Dart Scoreboard
If you're an artistic type and enjoy a good challenge, you might want to make your own custom dart scoreboard. In case you lack ideas, here are some that can be of great use in case you decide to make your own darts scorer.
For example, when it comes to cricket darts game, you can make a wooden scoreboard, where you'd keep track of your scores. You should find a good piece of wood, and work it to get it in a form of a board, where you'd then write the corresponding numbers, and keep track of your score. On the other hand, a simple paper would do well if you can't think of anything else. However, keep in mind that for every new game you'd need a new piece of paper, so this is not exactly a DIY, more of a temporary solution. When it comes to dry and erase scoreboard; you could buy a simple children's drawing board and turn it into a scoreboard by simply adding the needed numbers.
But, if at the end of the day you're not an artistic type, we'll bring you some of the best dart scoreboards available at the moment in the next section. Stay tuned.
Best Dart Scoreboards
| Name | Image | Type | Price |
| --- | --- | --- | --- |
| Viper Illumiscore Light Up | | Dry-Erase | |
| Viper Dry Erase Scoreboard | | Dry-Erase | |
| Viper Chalk | | Dry-Erase | |
| Trademark Gameroom | | Dry-Erase | |
| Viper ProScore Digital | | Electronic | |
| Viper DigiScore | | Electronic | |
Viper Illumiscore Light Up Dartboard Scoreboard, Cricket, and 01 Dart Games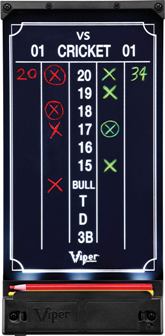 This modern light up dart cricket scoreboard allows you to keep track of your cricket or 01 games; a great alternative to messy chalk and dull dry-erase markers
It is designed with bright and energy-efficient lighting that gives it an extra glam, and a clear view of your dart scores, even in intense daylight, so you can play whenever you like.
It also features a smooth surface which enables an easy writing and erasing. When it comes to clean up, simply wipe it with a dry cloth.
This dart cricket scoreboard includes 2 grease pencils and a mounting hardware, but it needs the 4 AA batteries or the use of an external power supply adapter so it could work properly. A stylish darts scoreboard for an extraordinary darts experience.
Viper Dry Erase Scoreboard, Cricket, and 01 Dart Games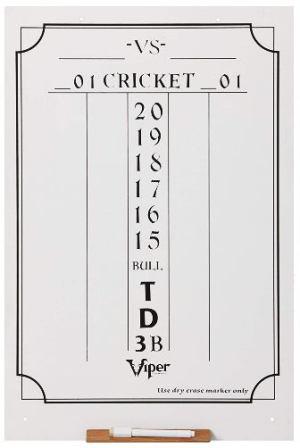 This cricket dart scoreboard allows you to keep track of your game at any time. It has a smooth surface that's compatible with all dry erase markers for your easier handling.
It also includes 1 dry erase marker with an eraser tip. Moreover, it comes with a mounting hardware for an easier installation. A great choice for all darts lovers.
Viper Chalk Scoreboard: Cricket and 01 Dart Games
Yet another great dry and erase dart scoreboard which will make your game easier and more pleasant. Comes with a smooth surface which allows an easy writing and erasing, for a better enjoyment of it all.
It comes with an attached wood ledge, which makes it easier to access the chalk and the eraser.
Trademark Gameroom Dry Erase Dartboard Cricket Scoreboard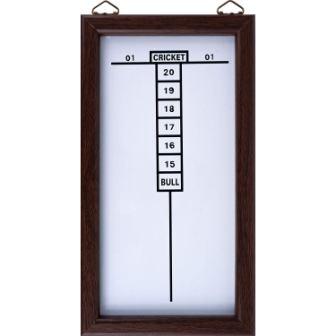 This dry and erase dart cricket scoreboard is an old school scoreboard which will allow you to take control of keeping track of the score. It comes with wall hanging mounts for an easier setup. The one thing that is not included in the marker, so you'll have to buy it aside.
Viper ProScore Digital Dart Scorer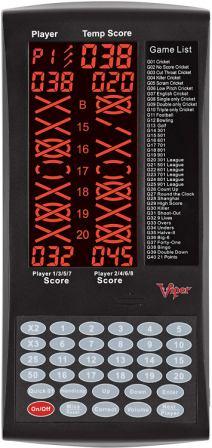 This electronic dart scoreboard brings all of the exciting games available on electronic dartboards, and what's even better, makes them easy to play with steel tip dartboards as well.
It comes with a large, backlit LCD monitor that can easily be seen from the throw line, for your full experience
Good for up to 8 players, with 40 games to choose from and 655 game options, including setting custom handicaps. A proper treat for true darts lovers, what more can you ask for.
It also has an auto-off mode and a sleep mode to help save the battery power. When it comes to battery, it requires 3 AA batteries which are not included, so you'll have to purchase them elsewhere.
Viper DigiScore Digital Dart Scorer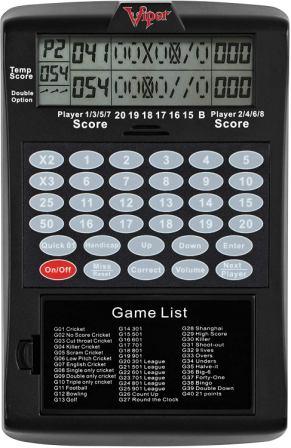 This digital dart scoreboard will make your game even more exciting. It can be used for up to 8 players, and it has a variety of 40 games to choose from. IT comes with an auto-off mode, which helps you to save the battery when needed. The batteries involved are the 3AA, but as well as with the previous model, are not included.
We hope this article will light up the doubts regarding dart scoreboards, and help you choose the one that fits you best, so you could enjoy your game to the fullest.
READ NEXT: BEST DARTS BACKBOARD – BUYING GUIDE AND IDEAS FOR DIY