There are many dartboard manufacturers, and some of them are more focused on amateurs than professional players. Viper is that kind of manufacturer; they produce low budget dart boards that everyone can afford. But they also create bristle dartboards which are made of high quality, and some of them are packed in a beautiful cabinet. Mostly these premium dartboards have focused on cricket, and because of that, they come with a dry erase scoreboard and a marker for manually inputting the score on the scoreboard.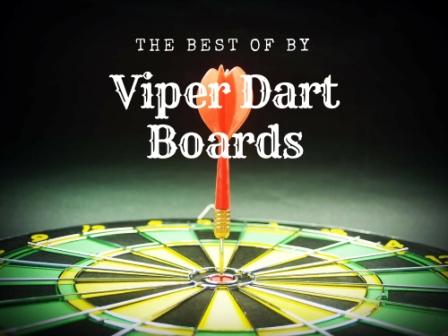 They also have some decent electronic dart boards. Viper electronic dartboards are made for amateur players who wish to have some extra entertainment. These viper dart boards are ideal for parties and for just having some fun with friends or family. And on top of all these electronic dart boards are not that expensive.
Top 10 Viper Dart Boards
Viper Shot King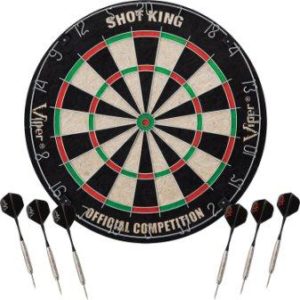 The most affordable viper dartboard without a doubt is official competition Viper Shot King dartboard. This viper dart board is made of sisal fibers that are compressed together to give extra durability. The movable ring is also present on this dart board, and that means that you can balance the wear of the area by rotating the dart board. This board size is suitable tournament dart board size which is used on darts tournaments all over the world. You can use steel darts or soft tips darts on this dart board. But in the packages, you will only get six steel tips darts. Setting up this viper dart board on the wall is simple and will take you just a few minutes to make it ready for play.
Viper League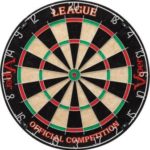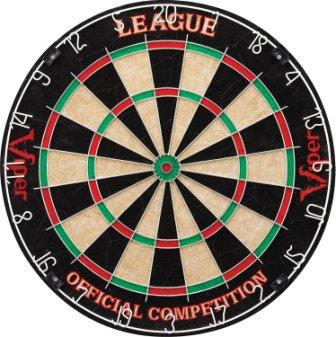 Price for Viper League is just as same as is for Viper Shot King and everything else is the same. Viper league is also made from sisal fiber. It also has a metal ring to provide an extended life of dart board. It also has 100% staple free bullseye for reducing bounces. The only difference is that on the top of the dart board it says League and in the Viper League package you will not receive darts.
Viper EVA V-Foam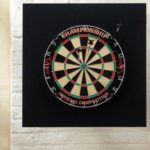 Just as in the previously mentioned models Viper EVA V-Foam is made from similar material. It is made from sisal fiber, and it has all the features previous models have. The only difference is that this dart board package is missing darts. You will not get any darts in the package. If you decide to use this dart board you can buy steel darts or soft tips darts, both of them will work on this board. The significant difference in this model is that it comes with wall protector. Wall protector is an ideal solution for amateurs that are missing the whole dart board often. Wall protector will protect your wall and will extend the life of your darts.
Viper League Pro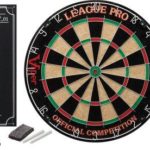 Viper League Pro is made for professionals who need something extra from the simple dart board. League Pro is an advanced version of Viper League dart board. The material in both models are same, and everything is made identical, and there is no difference in that segment. The only difference between League and League Pro is that League Pro is coming with three still tip darts, cricket scoreboard, eraser, and chalk. League Pro is for advanced players that love to play cricket and want to have scoreboard presented on the wall.
Viper 777 Electronic Soft Tip Dartboard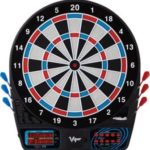 This affordable electronic Viper dart board is probably the best buy for every darts enthusiast who wishes to have some darts games with friends or family. Electronic dart boards are fun to play because they have a voice and will entertain players during the play. The target area is made of plastic with concave segment holes, and the size of the target area is 15,5″. The electronic board provides 43 playable games with 320 variations. This feature will keep even an advanced player occupied for some time. Maximum 8 players can play at the same time, and the display screen is large enough to know who is in the lead at any time. In the package, you will receive six soft tip darts and extra soft tips. This Viper dart board requires power in the form of batteries or adapter which are not included in the package.
Viper 797 Electronic Soft Tip Dartboard
Viper 797 is the newer model of electronic viper dart board series 700. And the difference between two models is not that significant. Viper 797 is having nicer colors than the Viper 777. The LCD screen is visible from all angles and a decent distance. The advantage of Viper 797 is that it can provide scoring for up to 16 players. Usually, dart boards are serving maximum eight players, but this viper dart board is powerful and can server 16 players. Viper 797 comes with an adapter, and you will not need to buy anything else to start playing darts if you decide to go with Viper 797. In the package is everything you need as well as six soft tip darts.
Viper Hudson Cabinet Bristle Dartboard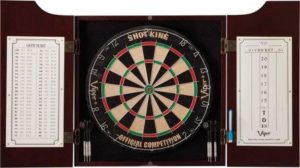 Viper Hudson is a high-quality cabinet made from solid pine and mahogany finish. It will make a nice decor for an entertainment room. Inside the cabinet, you get Viper Shot King Bristle dart board which we already mentioned above. That viper dart board is ideal for official competition and is an ideal choice for this cabinet. In the cabinet, you will also get an eraser scoreboard with a marker as well as the outchart board. Six steel tips darts are included making sure that you can play as soon as you place the cabinet on the wall. Mounting the cabinet on the wall is simple, and all you will need is a screwdriver, and that's it.
Viper 800 Electronic Soft Tip Dartboard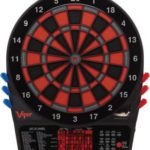 Viper 800 is the top electronic model from Viper. It can provide scores for up to 16 players. Board is made from high-quality plastic, and the target area is made in such way to reduce bounce outs. The target area is official size 15,5″. LCD is bright and will keep score for all players, and at any time you will be able to know the score and who is the leading player. This viper electronic dartboard provides 57 games with 307 options to choose. You will never get bored with so many games and so many selectable options. In the package, you will get six darts with soft tips as well as an adapter for the power which means you will not need to use batteries.
Viper Vault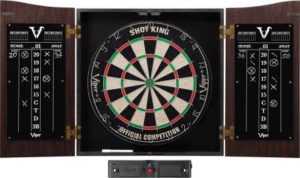 Viper Vault is a premium Viper dart cabinet made of the high-quality material. You can choose from various sets, standard, deluxe, premium, and elite. Standard is the cheapest one, and it includes Viper Edge dart throw line maker while Deluxe package is using laser marker. Premium one includes Viper Edge line maker as well as Viper Shadow Buster display light to play in darker rooms. And the elite version is using Viper Laser and Viper Shadow Buster.
Inside the cabinet is Viper Shot King which is one of the favorite Viper dart boards that many amateurs but as well professionals use. After all Viper Shot King dartboard is used in official competition and tournaments all over the world.
Viper Neptune Electronic Soft Tip Dartboard with Cabinet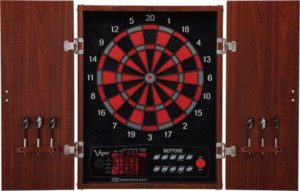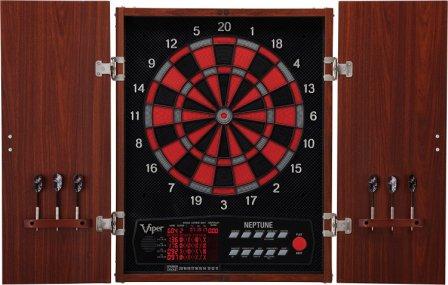 Viper dartboard cabinet with an electronic dartboard is really made for real dart players. The cabinet is made of high-quality wood, and it even has a dart holders to look really beautiful if you wish to showcase your dartboard cabinet. The size of the target area is an official size 15,5″ and is made of high-quality plastic. The material is durable and will keep you playing for years. Display board can display scores for up to 16 players. You can select one of the 57 games with 307 variations. In the package, you will also get an adapter to power up the dartboard as well as six darts with soft tips. Everything you need for darts game is included in the package, and as soon as you mount the viper dartboard cabinet on the wall, you are ready to play.
Final Thought About Viper Dartboards
Viper is a brand that is not complicating things. They have simple electronic dart boards that everyone can understand and play, but they also produce amazingly high-quality bristle dart boards that can be used even in official competitions. For electronic darts, they provide soft tip darts and bristle dart boards can be played with steel or soft tips darts. On the list above you can see the best Viper dart boards, and I am sure you will not have any trouble to pick the best one for your needs and style of play.