Inflatable dart boards are the popular addition to outdoor parties. Having fun by hitting the targets with balls is always good entertainment. Inflatable dart boards can be small and gigantic. Giant inflatable dart boards are usually soccer dart boards. These dart boards are played with balls that you hit with a foot and just like on the real darts you get the points by the target you hit. These giant soccer dart boards need more activity from the player and because of that are ideal outdoor game.
All the inflatable dart boards use sticky material which holds the ball on the target. The target area is usually made of a durable material that is inflatable and firm. Some smaller inflatable dart boards are less durable than the giant inflatable dart boards, but because of that, the small versions of inflatable dart boards are way less expensive than the giant ones.
We made one list of 7 inflatable dart boards we can recommend you. This list contains expensive and cheap versions, so this is a list for every pocket.
Top 7 Inflatable Dart Boards
 Banzai Land Bouncer All Star Inflatable Outdoor Sports Kick Dartboard Game Set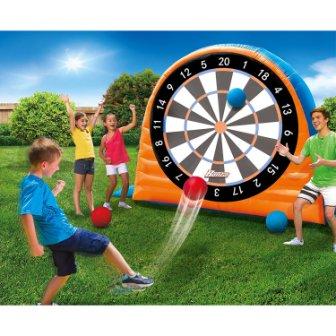 Banzai made medium size inflatable soccer dart board for kids. Kids will just love playing this soccer dart board game. The size of the inflatable target area is large enough, and the balls are strong enough to keep the scores correct. The inflatable dart board is secured with two water bags that will make sure the dart board will stay in place even if the player hits the ball as hard as he can. The target area is in real darts format including numbers from 1 to 20 and special small area for double, triple or bull's eye points.
In this package, you will get a sizeable inflatable soccer dart board which you can place in the backyard. Two bags for security purposes as well as tether ropes to make whole dart board secure. Four sticky balls are also included in the package.
 SELF Outdoor Inflatable Soccer Darts Board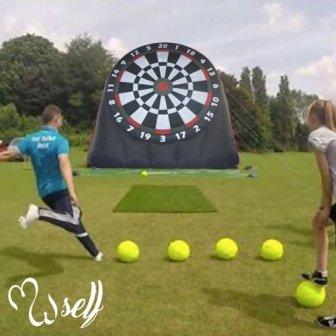 Little ones or kids that have no power to kick the ball hard will not be able to play this game. But teens, adults, and youngsters who have the power to hit the target are all welcome to play this giant inflatable soccer dart board game. The size of this soccer dart board is huge, and you can pick from 10×10 feet to all the way up to 18×18 feet size. If you are a real fan of soccer, then you will love this game. The target area of the inflatable dart board is in the form of real darts game which means that you can even play a cricket game on this dart board. Instead of throwing darts you will be using foot to kick the balls. This way of entertainment is ideal for team building, backyard fun, and parties.
In the package, you will receive giant inflatable dart board with a blower. With the blower, you will inflate the dart board very fast. Just in case you will receive a hand pump and extendable stick. Six sticky soccer balls are also included in the package.
 Outdoor PVC Tarpaulin Inflatable Soccer Darts Board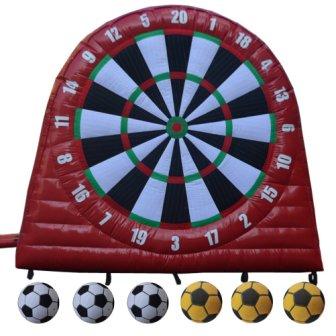 The size of this inflatable soccer dart board is 10 x 10 feet. It is made from high-quality PVC material that is durable. The material is also waterproof which means you can leave the inflatable soccer dart board outside even during the rainy day. The high-quality material is also extremely durable on hot and cold days; it will not wear off on sunny, hot days as well as on cold days. Soccer darts are ideal exercises for team building, outdoor business meetings, parties, parks, clubs and other entertainment purposes.
The package has the inflatable dart board, secure tools, six sticky soccer balls, sandbags to make sure inflatable dart board stay on the ground during a windy day, ropes and air blower for fast and easy inflating.
 OOFAY Inflatable Dart Board Set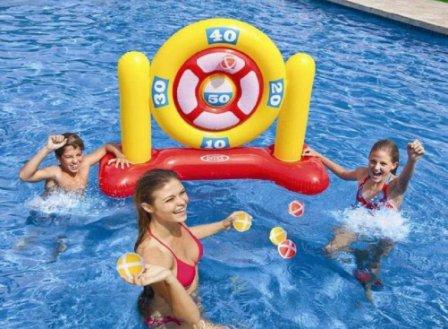 This inflatable dart board set is ideal if you have a swimming pool or you are going on vacation, and you will be spending time in the water. Without problem you can bring this dart board with you, it won't take much space in the backpack. This inflatable dart board is ideal for children of any age as well as adults. OOFAY uses a high-quality material in the production free from toxins. The whole dart board is tested on durability and that guarantees long usage.
The game is simple to play. The inflatable dart board is filled with air and placed on the water. The player then needs to throw plastic balls which get stuck on the dart board. The numbers he hit will go to his scoreboard. The winner is the player with most points.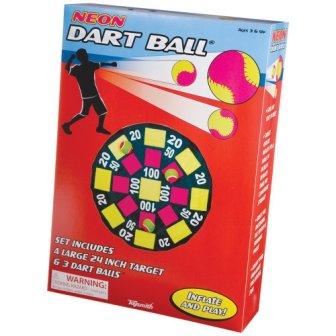 For a backyard darts, you can get Toysmith Get Outside GO! for just a couple of dollars. This product is ideal for children. It will keep them occupied for some time. Balls that are thrown on the target are safe and represents no injuries potential. You can chill without a worry about what is happening with the children in the backyard. Even kids that are old as just three years can play this dart board. And since there are no sharp edges and the whole game is perfectly safe nothing bad can happen.
This product is made of durable material that will last for a long time. In the package, you will get inflatable dart board which you can mount in few minutes and start playing as soon as the dart board is inflated. A large 24-inch dart board size is perfect for kids to hit.  You will also get three dart balls which are perfectly safe to throw even by the young ones.
 Heemika Inflatable Dart Ball Game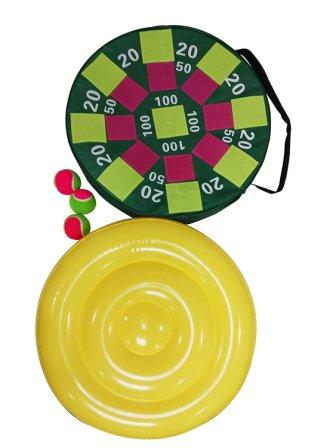 Just like the Toysmith inflatable dart board, this one is also safe from sharp and dangerous items. That makes this dart board perfect toy for kids. Kids will just love to play inflatable dart board in the backyard, but you can also play this game indoors. For indoor use, you will need to make sure nothing fragile is in the room because the dart balls are strong enough to destroy fragile items. A whole family can have fun playing this small but very exciting inflatable dart board.
The set includes three dart balls and inflatable target. All you need to do is inflate the dart board and place it on the spot. This product is one of the best inflatable velcro dart board. Velcro dart balls are made with the high-quality material.
 New 2.4M Giant Inflatable Dart Board
Just like with other giant soccer dart boards this one is also made for healthy competition among friends. The target is large, and the numbers are in traditional dart board form. You can play any darts game on this inflatable dart board. Only here you are kicking soccer balls to the target instead of throwing darts. Kids, teens and even adults love this game, and because of that, it is also the ideal game for birthday parties.
The material used in production is high-quality PVC that can withstand all weather conditions. In the package, you will receive safety tools to make sure inflatable soccer dart board stays stable even when the wind is blowing. The air blower is included in the package as well as six soccer balls.
Summary
For fun, you can get small inflatable dart board for kids. But the real entertainment is on giant inflatable soccer dart boards. These games are ideal for team building, lots of fun but as well as exercise and a little competition between friends. Since most of them use soccer balls, these games are really famous among people who love soccer. If the price for giant soccer darts is too much, you can rent the inflatable dart board. But the best advice would be to buy inflatable soccer dart board and rent them to others in your area, I am sure you can make good money by renting the equipment to others. not only you will make money but you will also promote this addicting outdoor entertainment game.