Magnetic Dart Boards
Safety is by far the biggest concern among people when it comes to playing darts. Most people associate darts with sharp magnetic needles which can pierce someone if used or thrown improperly. Owing to this, simple, amateur and especially kids darts are made for safety. There are several kinds of safe dart boards, and the principle of sticking them to the surface differs, so every that method requires a special dart board. Magnetic darts are one of the most common types of safety darts. It consists of powerful neodymium magnetic dart tips and magnetic dart boards which help such darts stick well.
Until recently, most magnetic dart sets were completely useless. The dart would fell off the weak magnetic board. It was commonly bought for children who often did not care much. But recent designs improved the likelihood of the magnetic dart board holding the hit. It is mainly thanks to very strong neodymium magnets which stick very well to other magnetic surfaces. Thanks to this, magnetic dart board game is the best choice for families with kids.
READ NEXT: Best Bristle Dartboards
Magnetic or Classic Dart Board (steel tip and soft tip)
Magnetic dart games come in a variety of designs. It usually pertains to the design of darts, which need to differ from classic darts as the magnetic head is much heavier than a pin dart tip, even than a steel one. Magnetic darts may require different throwing style, especially if the tail is soft. Sometimes, magnetic darts can have a standard rigid tail with fixed flights. A modern magnetic dart set will last very long, basically for a lifetime, as there is little or no damage done to anything.
Magnetic darts can be a great fun for both kids. When kids aren't around, it's not uncommon for adults to relax on their children's dart board magnetic. It can be a great stress relief, as not excess skill is needed and nothing can be damaged. Most magnetic dart sets have a neodymium magnetic tip covered or veneered in a soft, flexible coating that adds to safety.
If you are looking forward to a safety board which is the closest to a classic one, the magnetic one is perhaps the best option. Magnetic darts have the weight and speed very similar to that in classic pro darts. Hence you will be able to acquire good skills.
Best Magnetic Dart Boards
READ NEXT: Electronic Dart Boards
Best 5 Magnetic Dart Boards Reviews
Rico NFL unisex NFL Magnetic Dartboard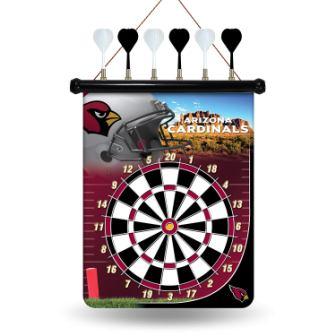 If you or your kid is an avid NFL fan, this is perhaps the best magnetic dart board for you. It is also perhaps the most American dart board around. Made in the US and with style of your or your kid's favorite NFL team with official licensing. It may look like a toy that the kid will quickly outgrow or forget about, but its quality can really hold the attention of everyone. Two dart sets – black and white. The cord hanging, so you will not mess with setting it up. Darts stick very well and will last so much that you will forget when you bought this. Rectangular board size 18 x 16 inches. Target is around 13 inches, and features a full classic dart set field, with standard areas, even an outer and inner bullseye. But the best thing about it is the foldable dart board, which is not quite common among magnetic darts.
Buy it now on amazon
Doinkit Darts – Magnetic Dart Board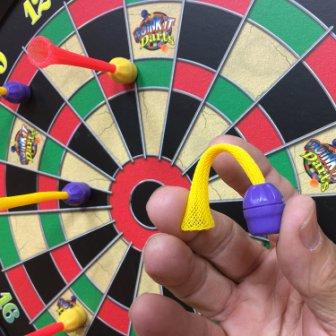 Darts can be a very fun family game, but the safety is an utmost propriety. Magnetic darts can't exactly pierce someone, but it is still a metal projectile that can hurt. In this magnetic dart set, the darts are enclosed in a soft, rubbery casing. Thanks to this the improper hits wouldn't hurt or damage walls. Very strong neodymium magnets will make sure even those veneered magnets will stick to the magnetic board.
Buy it now on amazon
BETTERLINE Magnetic Dart Board Set with 16 Inch Dartboard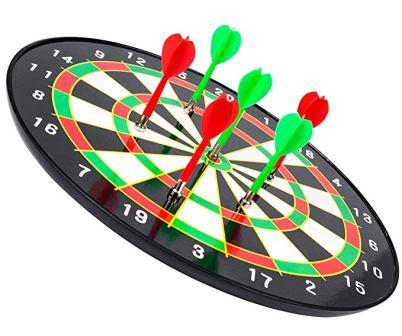 Magnetic dart board games are usually meant for children. But if you're looking for a magnetic dart board for adults, this might be the right choice. This is a standard 16-inch, full flat classic magnetic dart game. Very strong neodymium magnetic darts with Vortex style flights. Very serious look, but this comes with 6+ age rating and it definitely can be both adults and kids magnetic dart board. Great for acquiring precision and skill before switching to real adult darts with pin tips. How well these magnets stick is not a problem as the seller offers a full year cash-back guarantee.
Buy it now on amazon
Fun Adams Magnetic Dartboard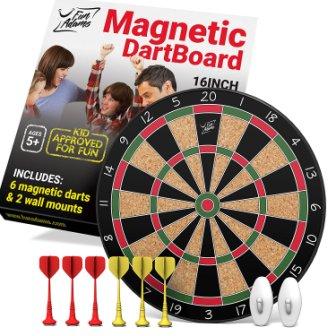 We absolutely love the design of this board, and its cork-looking regions in particular. This is another pro-looking magnetic dart board for adults and kids aged at least 6. Comes with two sets of darts with partly enclosed neodymium heads. Two wall mounts for superior sticking. You and your kids can learn precision thanks to darts with flights. Your hits will get some real accuracy on this dart board which will also be a great decoration for your walls.
Buy it now on amazon
PrimeTrendz TM Brand New Large Magnetic Dartboard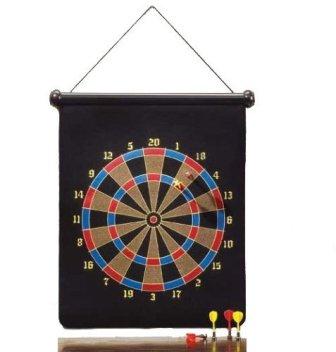 Foldable magnetic darts really hit the nail. They can go wherever with you, finely packed and can be set up quickly for more fun. Foldable magnetic dart boards are also lighter than rigid ones. This magnetic dart set is the best for outdoor playing or people who look for fun while camping or traveling a lot. Foldable magnetic boards are no less strong than rigid. This dart set is also very affordable and is perhaps the best magnetic dart board for an absolute beginner aged 6 or more.
Buy it now on amazon
Conclusion
Magnetic darts get a lot of fun and safety. Modern designs make this kind of dart as fun and reliable as any other dart. However, magnetism is a persistent property and there are no sharp parts, so magnetic boards are possibly the most durable ones.
A good magnetic dart board will add fun to your life. Moreover, you will be sure your kids won't get hurt in the game and also the walls behind it will not sustain any damage.
READ NEXT: Soccer Dart Boards