What to put behind a dartboard to protect the wall?
One of the biggest and most common mistakes people make when they start playing darts is forgetting about their walls completely. It's pretty safe to say that you yourself haven't had much thought about a dart board backboard either. You simply hang up your dartboard without giving a thought to what could eventually happen when you miss the dartboard and make a noticeable hole in your wall.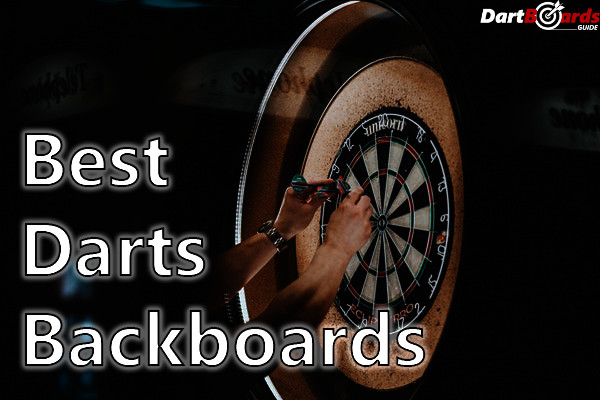 No matter how good of a player you actually are, your wall needs some protection anyway. Between some bounce outs and simple misses, and we're talking about missing the whole board, you can be pretty sure that your walls are going to experience some damage when you're playing darts. So how do you prevent this from happening? Why would it be a good idea to put a dart board backing, in order to protect your walls?
READ NEXT: Best 5 Magnetic Dart Boards
Some of the reasons why are permanence, safety, privacy, aesthetics. Why particularly these reasons, let us explain in continuation.
Safety
Darts, although they are enjoyable, can in certain situations injure you or someone else in the room. Appropriate wall protectors will in such a case ensure that a dart which missed the dartboard, does not hit dangerous levels or bounce off the wall. As secure as it may seem, a game of darts as you see can be quite challenging as well, so a dartboard back board is always a good idea.
Privacy
Game room or space where you play darts should be used for a single purpose only–therefore ensuring your privacy as you enjoy yourself while playing darts. That's why you need to make sure you don't play anywhere else by taking care of the walls. That being said, there's no better way than using a wall protector for the dartboard.
Aesthetics
Aside from preventing ugly and damaged walls, dart board wall protectors add an aesthetic value to your wall overall. They tend to come in different designs and shapes, in order to fit various rooms and spaces.  Moreover, you can make your own dart board backboards, so you have no excuse for not using them. When it comes to DIY wall protectors for a dartboard, we'll talk about that some more later.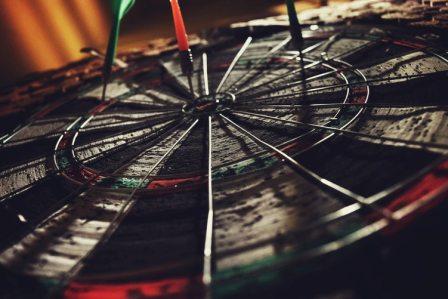 Permanence
When your wall becomes too damaged thanks to continued poking caused by missing the dartboard, you have two options available – the first is repairing the wall or the second one; moving the board. Both of the options mentioned mean you don't get to enjoy your game in the game room you've expected, even temporarily. The use of the dart board backing will make sure your wall stays as little damage as possible and will eliminate the possible repair costs as well.
When it comes to dart board backings, you can always go with a DIY project if you like getting involved in such activities, we'll give you some great ideas on how to make your own dartboard wall protectors.  On the other hand, in case you're not a DIY kind of person, we'll help you choose the best dart board backboard according to your needs. Stay tuned.
READ NEXT: Best Kid Safety Dart Boards
Best Dart Backboards You Can Buy
| Name | Image | Material | Price |
| --- | --- | --- | --- |
| Viper Wood Framed Dartboard Backboard | | Wood | |
| Viper Defender III Extended Length Dartboard Surround | | High-Density V-Foam | |
| Viper Defender Backboard & Sisal/Bristle Steel Tip Dartboard Bundle | | High-Density V-Foam | |
| 29" Professional Dartboard Backboard, Octagonal | | Wood | |
| Viper by GLD Products Viper Championship Wood Framed Dartboard Backboard Set | | Wood | |
| Trademark Gameroom Black Foam Rubber Dartboard Wall Protector | | Foam | |
| Professional Dartboard Backboard | | Wood | |
Let's start with the dart board backboards you can buy. We bring you the list of some of the best options available on the market at the moment.
Viper Wood Framed Dartboard Backboard, Dark Mahogany Finish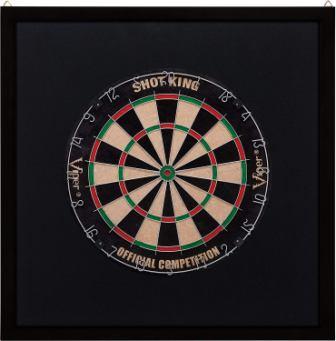 This wood framed dart board back board has a luxurious dark mahogany finish,  which will complement your home décor perfectly. When it comes to material, it is made of MDF wood and is equipped with a durable felt backing in color black, which protects your wall perfectly from miss throws, allowing you to enjoy your game of darts to the fullest.
Thanks to its measures it is appropriate for most traditional bristle dartboards, making it highly acceptable. Moreover, it includes mounting hardware, which makes the installation quite easy. This is one purposeful yet stylish dart board backing, we'll sure you'll like it.
Viper Defender III Extended Length Dartboard Surround Wall Protector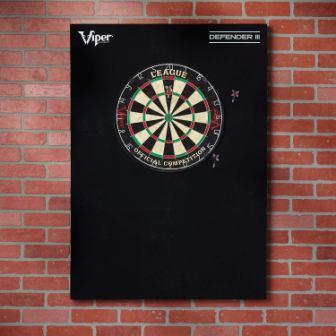 This surround wall protector for a dartboard will fit any standard bristle dartboard whose measure don't exceed 17.75 inches. That being said, the mentioned dart board backnig, will not fit 18-inch dartboards, so you're invited to measure it carefully to avoid any possible mistakes.
The protector provides 8.2 square feet of protection, while its high-density v-foam assures you that the wall in question will be secured properly.
In addition, its attractive velvet surface minimizes any signs of wear, which brings us back to the aesthetics point previously mentioned in the article. Moreover, its reversible design guarantees lasting protection.
Thanks to its easy to put up compression, the fitting doesn't require any additional, mounting hardware or tools.
Viper Defender Backboard & Sisal/Bristle Steel Tip Dartboard Bundle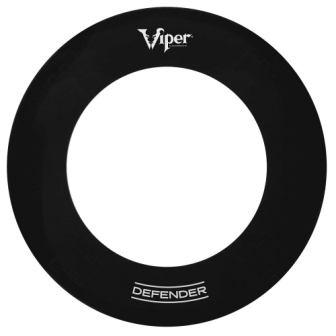 Just as the previous dart board backboard, this one is optimal for 17.75-inch bristle dartboards.
It provides a 5″ radius of protection, while a thick high-density v-foam makes it even more efficient. Apart from that, a great velvet surface will minimize the signs of damage or overuse.
Just as with the previous dart board backboard, this one is easy to assemble as well, meaning you won't need any tools or mounting hardware. Perfect for anyone not keen on tools.
A great choice if what you wish for is an efficient long lasting wall dartboard protector.
29″ Professional Dartboard Backboard, Octagonal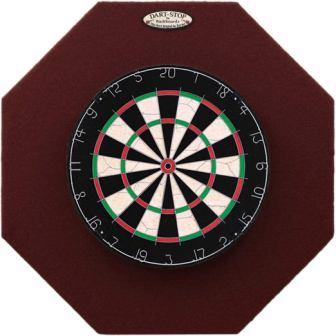 Thanks o the plush "no holes" fabric finish, this backboard will prevent any dart traces. It also has a pre-installed dartboard mounting bracket which will optimize its performance. It puts a dartboard up solidly well, without any need of shims, wedges or feet.
This professional dart board backboard is truly substantial and durable; with a 3/4 inch thick wood backing, and a 1-inch overall thickness.
In addition, it includes setting up instructions and hardware to simplify the dartboard set up at a standard height. A perfect choice for anyone who wants to avoid any trace of darts and enjoy the game of darts freely.
Viper by GLD Products Viper Championship Wood Framed Dartboard Backboard Set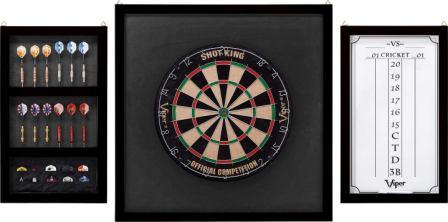 This mahogany finish wood framed dart board back board is made from MDF. Moreover, it has a black backing to protect the wall from the darts. In addition, in this set, you'll get a panel with dry erase scoreboard, as well as a panel with removable flight pouch.
What's even better, it has 4 complete sets of darts and it fits a vast majority of dartboards. Other things included are a dry erase marker and a mounting hardware. A perfect set which will provide you with everything you need to enjoy a good game of darts.
Trademark Gameroom Black Foam Rubber Dartboard Wall Protector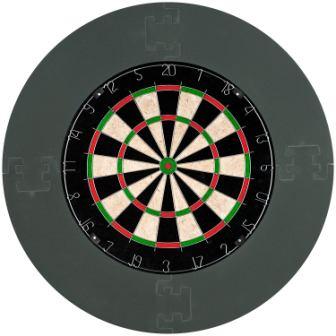 This rubber dartboard wall protector increases dart throwing area and protects the wall and doors from possible off-target darts. In other words, you are free to experience the dart game without any restrictions.
Its dimensions make it perfect for standard 18″ bristle dartboards, while the high-density foam rubber material holds the dart points in place.
Moreover, four interlocking pieces make the setup of this dartboard wall protector extremely quick and easy. So, if you are a beginner in these things, feel free to purchase this dart board backing; you won't be disappointed.
Professional Dart board Backboard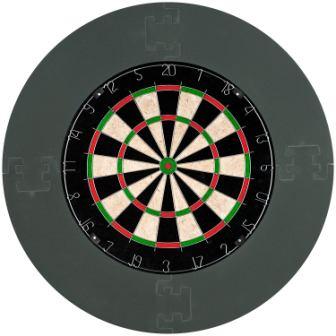 This round professional dart board backing will show no dart holes thanks to the plush "no holes" fabric finish, so you can play darts with ease. Moreover, thanks to the pre-installed dartboard bracket,  the mounting is done easily, without the need of any additional hassle. When it comes to mounting, the steel-reinforced mounting points for secure wall attachment, make it a perfect choice. Last but not least, it includes set up instructions as well as tools and hardware, for an easier mount at a standard height.
A great choice for most standard dartboards, and a great way to protect your wall in just a few minutes.
Before we go on some DIY dart board wall protectors, check this combo backboards:
DIY Wall Protector for a Dartboard
After seeing the already made solutions for protecting your wall from darts, now it is time for something a bit different. You're into doing things yourself, you like to add a personal touch to your darts hobby? Well, then a DIY dart backing is a perfect choice for you. In this section, we'll give you some dartboard wall protector ideas you could turn into your customed darts wall protector.
READ NEXT: Best Outdoor Dart Boards
Wooden board with LED lighting
The word "cool" has just gone one level higher. A wood dart board backboard with LED lighting, made from reclaimed wood which has been buffed, polished, treated and stained is a new version of cool.
The LED light strip is being attached to a recess around the wood frame which helps to hide the light fitting and allows the LED glow to project on to the surface of the board.
Furthermore, the use of an automatic color-changing LED lights may be too distracting when you are playing darts, so it would be best to go with a standard lightning. However, you can always use the lights that will change color at the touch of a button.
Framed Cork Dartboard Background
This is another freestanding mount and background for a dartboard, but it could also be fixed to a wall if you wish so. This cork dart board backer is a perfect solution.
This surround is made up of a lot of corks which are set on a board in a mosaic style pattern. Corks are ideal to use because they will absorb the impact of a dart when it strikes and the dart is unlikely to bounce out very far if it bounces out at all.
The board is finished with a neat frame which is painted to match whatever color scheme you have, so it fits your home perfectly. Moreover, it can be a pretty large dart board backboard, so your wall would be totally safe while you're playing darts.
Here is you can see some our picks:
Which Material to use for Dart Board Backing
When it comes to materials being used for dart board backings, there are many different ones. However, as with everything else, there are some materials more appropriate than others. In this particular section; we'll talk about the best materials to use or dart board wall protectors. Some of the best materials are Cable reels, the aforementioned cork and LED wooden boards, as well as ropes.
READ NEXT: Best 7 Inflatable Dart Boards
Let's start with the first one
Cable reels – Cable reels may not be your first choice when it comes to dart board backings, but they can be a very good option indeed. These drum-shape containers carry electric wires and cables. They can be found in different materials such as steel and plastic, though the best for most walls happen to be wood.
These cable reels will give a unique look to your wall. What's even better, they are affordable and you can buy them in any market. You should keep one thing in mind, though – be sure to hang them properly on your wall because they tend to be heavy.
Cork- this is another great solution for the backboard as we've seen in the example below.
You can get some cork flooring cut at a flooring store according to the shape you want, and then glue it to the plywood. Moreover, if you're into recycling, you can make a cork dartboard backer out of wine corks, which will look great as well. Your cork dart board backboard is a truly aesthetic solution you won't regret.
LED wooden boards- another great solution we've already mentioned, but it is worth re-mentioning. The use of lights in a wooden dartboard gives that unique factor to it all, and it will make your space look very cool. This is a very creative idea, which not many people are keen to explore.
All you need to use is a stained, recycled or even polished wood board that has a good finish, and this will help it to add the brightness of the LEDs for an even better darts experience.
Ropes- last but not least when it comes to dart board backboard materials are ropes.
You can use an old rope in your house, but make sure it's thick. You want to avoid thin ropes so that your wall would actually remain safe.
Once you find the best rope, you coil it just as you would do it with a pipe, but make sure to leave enough space in the center of the design so that your dartboard would be able to fit in it. After you've done all this, unfold the coil and start gluing the strands and fibers together. Once the gluing process is over, attach it to a wood support.
We hope this article has been helpful whatever you decide to go for; be it an already made or a DIY dartboard backing. After all, it is up to you to decide.
READ NEXT: Best 10 Dart Boards with Cabinets