Often, it is not easy to decide on the best kid dart boards. Quality materials, durable construction, and uncompromised safety requirement make darts for kids quite complex. Also, these darts need to have a fun and attractive design in order to retain children's attention. Kid's darts may be more durable than adult ones because the darts, that can appear in different forms. don't damage the board by piercing. Instead, they use softer techniques of sticking to the table. Rubber spikes, Kids Magnetic Dart Board and looped fabrics that catch Velcro balls can survive many, many hits.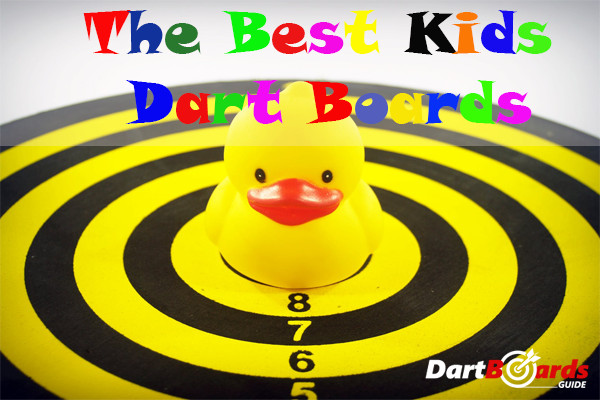 READ NEXT: Best Professional Dartboards
How to pick the best kid friendly dart boards
The best way to decide which dartboard is the best for your kid(s) you need to look at the age rating first. Most manufacturers define an age rating for safe use of their kids dart set. Usually, darts which resemble real ones will be suitable for children aged at least 6. Velcro darts, which actually are plastic balls wrapped in Velcro strips are extremely safe and good for children as young as 3.
Safe dart boards for young children also have vivid and attractive colors and fewer score regions. Same goes for darts or balls.
Look for a kids darts game which best suits your child's age. The youngest children will be fine with simple color-coded darts with just a few scoring areas without any numbers. Somewhat elder preschoolers can have a bit complex dart with more score areas where points are easy to calculate. Youngest schoolchildren can start with boards which resemble a classic dart game, or a simplified variant of it. Finally, there are boards and darts that look exactly like pro ones, with blunt darts and improved safety allowing their use by children. On a board like that, your precious little ones can play their first classic dart games.
Your kid may start playing darts as early as 3 years of age. Over time he or she can progress smoothly to be able to use adult darts as teenagers. During that time children will be able to learn colors, numbers, precision, socialize better with friends, siblings and parents/carers, learn how to play safely, fairly and have a great time playing. Best darts for children are made to be fun for both parents and kids. Few models for the older children are even good for adults to play when children aren't present, e.g. in the office.
Best Dart Boards For Kids
| Name | Image | Type | Age | Price |
| --- | --- | --- | --- | --- |
| Doinkit Darts | | Magnetic | 6+ | |
| Gamie Dart Board | | Plastic | 3+ | |
| Ylovetoys Dart Board | | Soft Tip | 6+ | |
| Safety Darts and Kids Dart Board Set | | Soft Tip | 6+ | |
| Fabric & Velcro Dart Board | | Velcro | 3+ | |
| Diggin PopOut Darts | | Velcro | 3+ | |
| Set for Kids and Adults by Gamie | | Soft Tip | 6+ | |
READ NEXT : Inflatable Dart Boards
Best 5 Kid Dart Boards Review
Doinkit Darts – Kids Magnetic Dart Board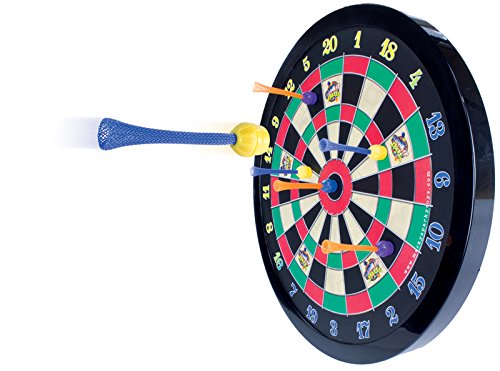 This Kids Magnetic Dart Board is a serious looking board sporting a classic, adult board design. Since it is a kid friendly dart board, bonus rings are somewhat emphasized. Magnetic design and sturdy materials used for both the board and the darts make it one of the longest lasting darts for children. Neodymium magnets in darts stick very well to the board and add to precision. This kids dart set is a great present for older children who will get a chance to gain skill and accuracy before switching to adult darts.
Age rating: 6+
Darts: Soft and ultralight darts, 6x (3 each of 2 colors). Long tail with enclosed neodymium magnetic head.
Material: Enclosed circular magnetic board
Style: Standard dart with a bit emphasized double and triple rings, as well as bullseyes with standard colors
Diameter: 16 inches/ 41 cm.
Gamie Dart Board For Kids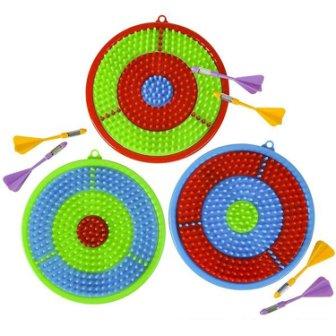 Need a dart for very young children? This is one of the best kid dart board. No numbers, just colors – so the very young kids can learn precision and feel equal with older siblings or other children who acquired numeric skills. Three boards enable playing a multitude of games – especially parallel games. Two or three kids can hit their own targets at the same time, so no queuing for the others to finish. Very light and easy to hang. Vivid colors make it a nice decoration for every kid's room. Very durable item, it's likely your children will outgrow this set rather than tear it.
Darts: Plastic spikes, soft edges high safety darts. Every dart is packed with a pair of darts of a different color, meaning you get 6 darts total.
Age rating: 3+
Material: Rubber pin matrix
Style: Set of three color-coded dartboards without scoring
Diameter: 6.5 inches/ 16.5 cm each.
Ylovetoys  – Kid Friendly Dart Board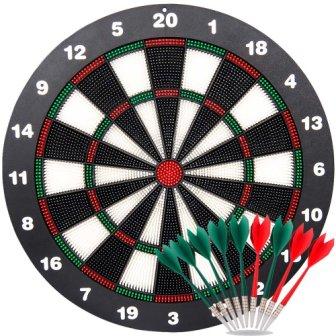 Want a kid friendly dart board which is good for both minors and adults? This one might be the best choice. Full classic dartboard design made of rubber pins. Even more durable than many "real" darts. The only difference is the lack of the inner bulls-eye field, which may be due to design itself. Everything else is just like in a real dartboard. Even the darts themselves are designed to look like pro ones. Besides the standard nail hole, this one has a tabletop lanyard which can be used to put the dartboard on various surfaces. The lanyard will keep the board in place resisting the dart hits.
Darts: 9 Soft-silicone tipped darts.
Age rating: 6+
Material: Rubber pin matrix
Style: Classic game dart
Diameter: 16.4 inches/ 42 cm.
Safety Darts and Kids Dart Board Set – 16 Inch Rubber Dart Board with 9 Soft Tip Darts for Children and Adults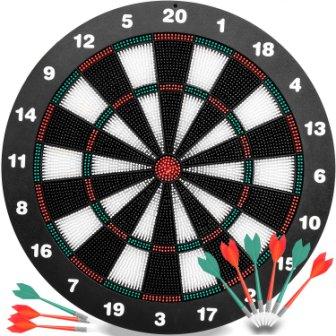 These are universal dart boards for kids and adults which will meet needs of everyone who wants to play darts around. Bored at home, while camping, at school, or in office? Just unpack this set and use the sturdy metal bracket which will keep the board tightly in place. You can play wherever you find a flat surface and enough distance to hit the target. Classic dart game without the inner bulls-eye, but you can determine on how the single bulls-eye field will be scored.
Darts: 9 Soft-silicone tipped darts.
Age rating: 6+
Material: Rubber pin matrix
Style: Classic game dart
Diameter: 16.4 inches/ 42 cm.
Fabric & Velcro Dart Board Game with 6 Velcro Balls | Large – 14.5 Inches (37 cm) Diameter | Safe for Kids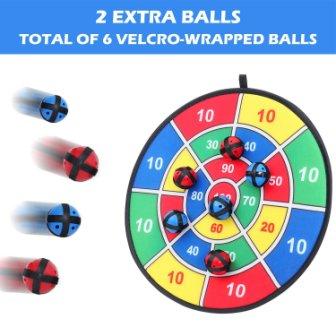 You think that classic kid dart boards are still dangerous for some? Right, even with rubber tips darts act as missiles once thrown and can hurt small children. This is why many parents opt for Velcro darts for preschoolers. One more advantage is the fine fabric of the dartboard. Over time, Velcro balls become filled with dust and fibers from various fabrics this touch, but the fabric surface of this children dart board is made to avoid hair and dust collection.
Darts: 6 safety balls covered with Velcro strips (3 blue + 3 red)
Age rating: 3+
Material: Very fine fabric
Style: Children's dart game inspired by the classic dartboard designed to help kids acquire basic math skills. Vivid colors.
Diameter: 14 inches/ 36 cm
 Diggin PopOut Darts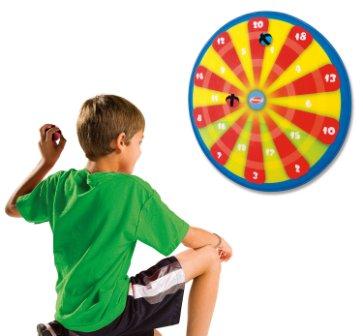 With its large diameter and stylized classic dart game layout, this might be one of the best dart choices for preschool children who want to acquire math skills and rules of the classic dart games. Ultra-light plastic balls are covered in strips of durable Velcro. The dartboard is actually a cloth and can be folded in a bag that comes with the item. You can bring it virtually everywhere, though you will need a solid wall to have the dartboard stick properly and absorb ball hits without moving or flicker.

Darts: 6 safety balls covered with Velcro strips (3 blue + 3 red)
Age rating: 3+
Material: Foldable cloth and fine fabric.
Style: Classic dart game with eye-catching colors. Large diameter for easy aiming.
Diameter: 24 inches/ 61 cm
 Family Dart Board Game Set for Kids and Adults by Gamie | Includes a 10" Dartboard and 4 Darts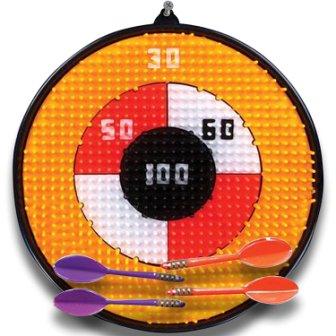 Entry level dartboard which includes only four darts and a board with just several score fields. For children around 6 years of age. This one can be a good precursor for some more serious dart games. Vivid colors will give a touch of spring and fresh fruits to the room where you hang the dartboard.
Darts: 4 rubber soft tip darts (2 violet and 2 orange)
Age rating: 6+
Material: Rubber spike matrix
Style: A simple dart game which will help children understand the very basics of math and playing darts.
Diameter: 10 inches / 25 cm.
Conclusion
Darts are a simple, yet very fun game which helps many developmental processes in your children. Kids got specially designed safety darts with dartboards designed of a material which can replace the need for sharp dart tips. However, some solutions found in the kid dart boards we described are able to fully emulate the real dart game in a completely safe way so the children and parents or carers can have a full impression of a real dart.
READ NEXT: Outdoor dart boards or Best Electronic Dart Boards