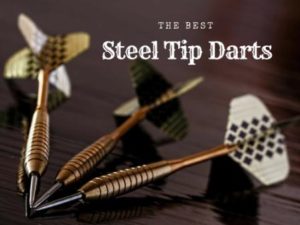 Steel tip darts are used by professional players. These pro players never miss the target and hit the wall. Missing the whole target area with steel tip darts may be bad for the wall or furniture behind the dart board because steel tip darts are sharp and robust bolts that can penetrate concrete. These versions of darts are mainly used with sisal fiber dart boards or bristle dartboards. When playing with steel dart tips, you will need to throw faster and stronger, and that is a whole new concept of playing. Because of that many players have problems converting to the game from electronic dart boards to the dart boards that use steel tip darts.
READ NEXT: Cheap Dart Boards
Steel Tips Vs. Soft tips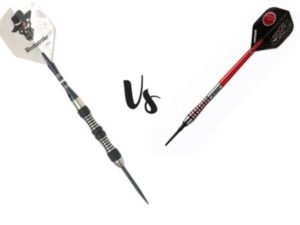 Steel tip darts are used on steel tip dart boards as already mentioned before. The main difference is that steel tip is sharp and dangerous if used in a wrong way. Because of that steel tip darts need to be kept away from children. These darts are not toys, and if kids play with them, it could lead to lethal consequences. From the visual view, both soft and steel tip darts are looking the same except the tip. The tip of the metal darts is longer and will penetrate the target more deeply than the soft tip darts do. That penetration is possible because of sharp edges and powerful throw. Most of the professional tournaments are played on bristle boards with steel tip darts. Many dart companies produce steel tip darts, and there is a race which company will create the best steel tip dart. We can put the steel tip darts into two categories, professional steel tip darts, and darts for the beginners. But if you are a beginner and want to play with professional darts nothing is stopping you, in fact with professional steel tip darts you may get a better feel for the game, and maybe one day you will become a pro player.
Top 10 Best Steel Tip Darts
Centaur 6 Pack Steel Tip Darts
These 20 grams darts come with an aluminum shaft and two styles of flights. Everything is packed in a beautiful box. Centaur darts have high-quality steel barrels that will satisfy even the most demanding player that want to have the best grip as possible. These darts are fast, and you will feel the power when throwing. Price for these darts is exceptionally affordable considering that this set is advertised as professional two pack set. Two pack set means that you will get six darts and for such a low price this is a steal. Even if you are a new player, who is starting to play darts with this set you can feel a professional dart in hand for a small cost. Centaur also offers the money back guarantee of 30 days in case if you are not satisfied with the product.
Sametop 6 Packs Professional Steel Tip Darts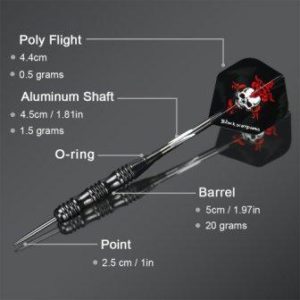 Sametop is a well know darts company that makes various kind of darts. These darts are made from the aluminum shaft, poly flight, and barrel. They have O ring that connects barrel with the shaft, and that is ideal for preventing loosening. With this O ring, you will never throw a loose dart that may cost you a victory. These darts are a little bit heavier than the previous one. Whole 2 grams heavier which may or may not have a difference, depending on the style of your play and how you adjust to the darts. But in general the heavier the dart is, the more power it has, and you will have a better feeling when throwing. In other words, heavier darts in a right hand may be more accurate than the light darts. The barrel is well done and has an excellent grip for even more control at throwing. These darts are ideal for beginners or recreational play. In the package, you get two sets, six darts and darts sharpener. Darts sharpener is needed because steel tip darts need to have a sharp point for even more penetration.
Whimlets Professional Darts Set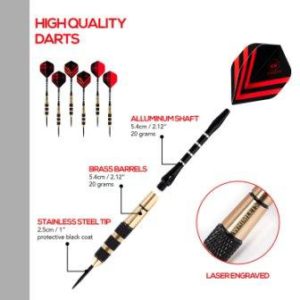 When you see these darts, you would think these are darts professionals use in the tournaments. I mean nothing is wrong with these darts, in fact, they look just like the ones professionals use, but these are not darts for competition. These darts are long, and because of that, they appear like a Tungsten darts. And this is not disadvantaging, in fact, a skinny body of these darts allows more control on the board and more triple barreling. The material is same as in previous darts, aluminum shaft, brass barrels and O ring. Nothing is different in the production except the design, and because of that design, I think it is worth to try these darts. These are actually 20 grams darts, and that is 2 grams less than previously mentioned Sametop darts, so you should consider if you need more weight or skinny body. And again decision will be made by the way you play. If you are hitting triple 20 with all three darts then, without doubt, you need to go with the skinny body. But if you are playing games like Cricket, then the skinny body is not really that important and maybe more accurate heavier dart is a way to go.
Sametop 12 Packs Steel Tip Darts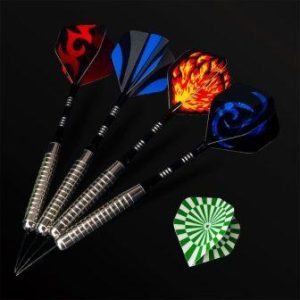 Sametop has its answer on skinny body darts. And in this package, you will receive 12 of them. And to tell you the truth the price for this 12 darts is extremely affordable. In fact, these are best buy low budget darts. Maybe the design is not something unique and you will think these are some simple everyday darts. But these darts have 22 grams and are skinny. These features mean you will have massive dart with a thin body. Barrels are made with nickel silver, and that silver color is maybe not that attractive, but the rings on the barrel are made in a way that these darts should fit everyone, regardless of the style of play. You should test these darts if you are a new player, you may find them very good, and with this package of 12 darts, you can be good for several years. In the package, you will also get darts sharpener which is needed for steel tip darts.
CC-Exquisite Professional Darts Set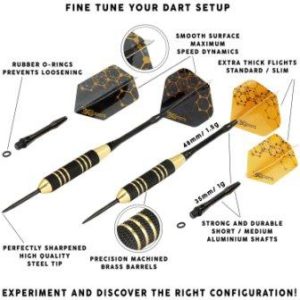 CC-Exquisite raised a ball to a whole new level with this customization set of 6 steel tip darts. The material is same as in previously mentioned darts. Aluminum shaft, brass barrel, and high-quality dart flights. But the major feature of this darts set is customization. You can create your own dart from different parts of this set. You can combine 22 gram or 18-gram darts and use longer or shorter shaft. All darts have O ring for tightening and preventing loosening. The material used is high quality and durable. Steel tip is made of high-quality steel that can be sharpened with darts sharpener after every throw. If you are the beginner, then this is the ideal set for you. With this customization feature, you can test various types of darts and find the best one that suits you. After you find the best dart that is perfect for your way of playing you can easily buy that same design dart made with higher quality material like tungsten.
Ignat Games Steel Tip Darts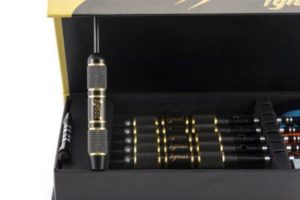 Ignat is a high-quality brand in darts world. And these high-quality darts in a set with lots of goods are not expensive. In fact, for a couple of bucks, you will get these great Ignat darts and the book how to use them. And if that is not enough, there is also a darts sharpener to make sure your every throw will penetrate deep into the dart board. These darts are also good looking with every dart having the Ignat sign. These are 22 grams darts that will allow you high accuracy thanks to the brass barrel made with beautiful rings. Aluminum shaft is long enough to make this standard dart size. Poly flights are in standard shape also signed by Ignat. Ignat book is included in this set, and you can learn how to use these darts properly including scoreboard templates.
Agirlgle 12 Pack Steel Tip Darts Set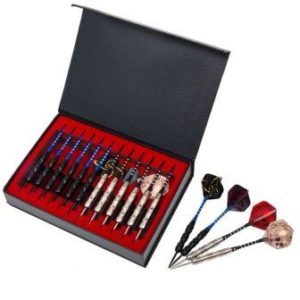 Agirlgle builds a great quality darts with a sharp steel tip that will for sure stay on board even if the board is not made of a high-quality material or is damaged. In this package, you get 12 steel tip darts with colorful flights. Darts come in two barrel colors, white and black. Barrel quality is same and made with same design, so there is no significant difference between these two sets, the difference is only in color. Barrels are made of a high-quality no-slip iron which prevents terrible throws and helps you with accuracy. The interesting fact about these darts is that you can change steel tip to soft tip and play on electronic plastic area dart board. All 12 darts are packed in a high-quality box that will make you appear like a true professional player in any tournament you participate. If you are for whatever reason not satisfied with these darts, you can return them, and you will be refunded. This guarantee means that your purchase is risk-free, so why don't you order and try these semi-pro darts.
CUESOUL 22/24/26 Grams Tungsten Steel Tip Darts Set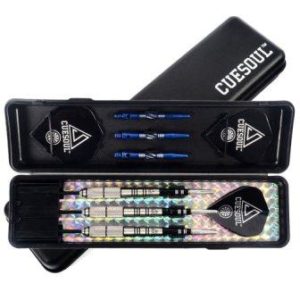 And finally, first professional Tungsten steel tip darts on the list with 90% Tungsten. These skinny but heavy darts come in 3 weighs, 22, 24, 26. Pick the ones that fit you best. Professional players are looking for the most heaviest darts that will give them an edge in the accuracy of the throw. The grip on these model is ideal and is the same on front and back. These expensive darts will lay in your hands perfectly regardless of the playing style. These darts are skinny because they are made of dense material Tungsten which allows production of skinny body darts. With these darts you will without a problem put all three darts in triple twenty, but only if your aiming is good. If your aiming is not good and you are not a professional player, then you will not see any significant advantage by using these professional darts. These darts are built for pros that wish to drop all three darts in tight areas.
CUESOUL 30/28/26 Grams Tungsten Steel Tip Darts Set 95% Tungsten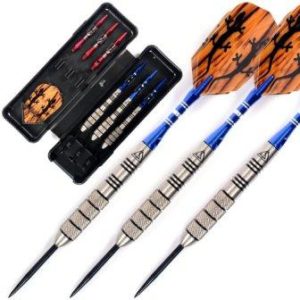 Can it get heavier than this? These darts are for true professional players you are watching on television, or you maybe saw them over at YouTube. 95% Tungsten means that this darts are the same size as standard darts but are heavier. They are made for high accuracy. The grip is also made with a perfect shape that allows all kind of players to have a nice feeling with these darts. The price of these darts is expensive for regular players, but the professionals know what they are buying. The professional dart player will pay for such darts because these darts will give him ultimate accuracy that will help him win championships. In the package, you will also get spare parts in case something goes wrong with darts as well as a tool for assembling the darts and a small dart sharpener which is a most crucial item in professional dart playing. Everything is packaged in a luxury box and wherever you go on the tournament people will recognize you as a serious player as soon as you put your darts on the table.
Final Thought
Steel tip darts just as soft tip darts have many things in common and the only difference is in the tip. But we must agree that there are much more brands that build high-quality steel tip darts than the soft tip darts. And the reason behind that is maybe because most of the professional players are playing darts with steel tip darts on a bristle dart boards. Whatever is your skill level in darts I am sure on the list above you can find a perfect dart for your playing style.
READ NEXT: Best Dart Boards with Cabinets or Best Inflatable Dart Boards