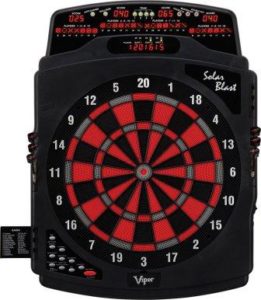 Viper is a well-known brand in darts world. The dart boards that have Viper label on are all made with high-quality material and feature various fancy options that bring darts game to the whole new level. The price for Viper Solar Blast is high enough, and you probably think that this dart board is made for professional players only. To find the answer to that question you will need to read through this Viper Solar Blast review and decide on your own if this dart board is for you or for some other more experienced player.
Viper Solar Blast Electronic Dartboard Features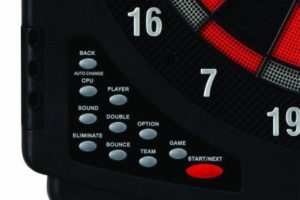 Viper Solar Blast is an official regulation size dart board. The size of such boards is 15,5″ and Viper is made in that dimensions. The target area is made of durable Nylon segments, and the holes are made in an ultra-thin spider web that drastically reduces bounce outs. In return, players are not getting frustrated with bounce outs, and overall the game is more enjoyable because of that.
Viper Solar Blast dart board is made for a long lasting fun while playing darts. The board has 43 games to offer with 187 options, and up to 16 players can enjoy the game at once. Most of the boards have eight players as maximum, but Viper Solar Blast is an electronic dart board made for parties where many players can enjoy the game at once.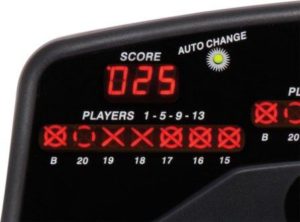 On top of the dart board is the huge scoreboard. The scoreboard will show four scores at once, and you can without a problem see who is the leading player. Under each standard score, you can follow a cricket score. Cricket is very popular darts game and many dart boards; especially electronic ones are focused on the cricket game. With such a beautiful scoreboard that runs entirely automatically, you will not need to do any manual scoring. The game will also tell you when is your turn to throw and when it ends, so no cheating is allowed.
Pros and Cons For Viper Solar Blast
Pros:
cool and exciting design that fits most of the entertainment rooms
large display that shows four scores at once and can hold up to 16 players which is the maximum amount of players on electronic dart board can handle
lots of games and variations for each skill
soft tip darts are included in the package which means you can start playing as soon as you place the board on the wall
Cons:
for some people this magnificent dart board is overkill, and they will not use all of the options and features, but they will pay for it because this is not a cheap dart board
Final Thought for Viper Solar Blast Dart Boards
Viper once again made a great deal with producing such a powerful electronic dart board that is capable of providing a darts pleasure to 16 players at once. Because of that and because of many other fancy and useful features a real dart player need I can place this electronic dart board beside the best electronic dart boards on the market.
Read next: Cricket Pro 800