About Soft Tip Darts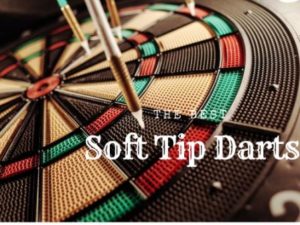 Soft tip darts are mostly used in combination with electronic dart boards. Soft darts will not do damage to the board, and if the tip gets destroyed, it can easily be replaced with a new one. Soft tip darts are recommended for beginners and young adults because soft darts are safer to use. Even if you miss a board entirely with a soft tip dart, you will not do severe damage to the wall. I can recommend soft tip darts if you have children in the house because with soft tip darts even if children get to your darts equipment they will not cause severe damage to them self or to the furniture.
Soft Tips Vs. Steel Tips – Which one to choose?
Difference between metal and soft tip darts is that the soft tip dart is soft dart and when is thrown at the plastic target area it will fit the hole perfectly without doing any serious damage to the dart board. Because of that reason,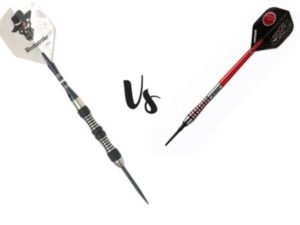 steel darts are not recommended to use with plastic electronic dart boards. Steel darts are hard, and they may do colossal damage to the plastic boards just with one hit. If you have kids in the home, you should not let them play with steel tip darts because these darts are dangerous and may cause serious damage if not used correctly. Steel tip darts are recommended for professional players who never miss the dart board. If you are new to the darts and you bought bristle or sisal fiber dart board, then you should also get a wall protector because you don't want to have holes on the wall. But the most significant difference between the two darts is bounce outs. Steel tip darts never bounce out and even if you hit the wire the dart will penetrate the board and score will be recorded. On the other hand, soft tip darts bounce a lot, if the plastic hole is not made with high quality these bounces will happen quite often. Some of the electronic dart board manufacturers fight the bounce outs with creating a high-quality target area with as many holes as possible, and some of them even use magnets to make sure that the soft tip dart stays on the board.
Best Soft Darts and Soft Tip Dart Sets
Viper Sure Grip Soft Tip Darts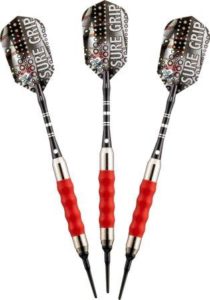 Viper knows their business when it comes to darts. They create great dart boards and these extremely affordable darts are the perfect choice to use on Viper electronic dart boards. Viper Sure Grip Soft Tip Darts are made with exceptional balance on the mind. The high-quality material is used to create this perfect soft tip dart for electronic dart boards. The grip on this dartboard is ideal and useful by amateurs as well as professionals. Plastic tip is tightened strong and will rarely require stretching. The flight of this great and affordable dart is ideal because of quality dart flights that will increase speed and make sure the dart hits the target at a proper angle. If you decide to buy this model of darts, you will be able to choose from various grip colors.
Fat Cat Realtree APC Pink Camo Soft Tip Darts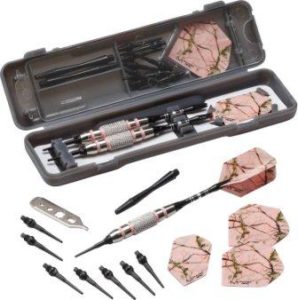 Almost the same design as Viper Sure Grip. And the material used in the production of Fat Cat Realtree APC Pink Camo is high quality, and same technology was used to create this model of soft tip darts. And the reason for this is that the same company is producing both of the darts. GLD products are making darts for Viper and Fat Cat. The only difference between the two darts is the grip. Viper Sure Grip uses a rubber gum grip while the Fat Cat is using rubber steel with knurled bands that will help you be more precise when throwing. These darts have 16 grams and are recommended for professionals as well as amateurs. The price is affordable, and all type of players can afford this model of darts. In this package, you will also get a box with all the spare parts in case something goes wrong while your playing darts.
Viper Black Ice Soft Tip Darts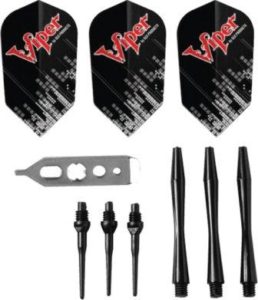 The producer is the same here, a famous GLD Products company. Knurled bands are placed much differently in this model of darts than the previous two. This dart board also uses metal for a grip and some people will prefer this kind of grip over the rubber gum grip like is in previously mentioned Viper darts model. All the rest parts are the same. Soft tips are tightened hard, and the flights are the same as in earlier mentioned models of darts. The only difference is grip and that only means the style of your play will dictate which darts you should buy.
Viper Bobcat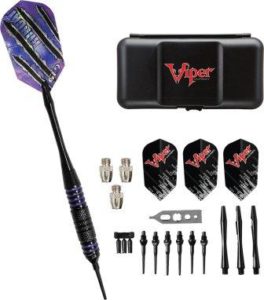 Previous models have a default knurled and ringed grip, and you had no ability to choose a different style that maybe fits your play better. With Viper Bobcat that is not the case, and that is the most significant advantage of this mode. Ability to choose a different style of dart. This model also has weight adjust which is an ideal feature that most professional players love. We can agree that this model is a first soft tip darts model on this list that is having professional players on their mind. If you are pro darts player, I am sure you will love this model and all the features this model offers. This soft tip dart set also comes with a limited lifetime warranty.
Viper Atomic Bee Soft Tip Darts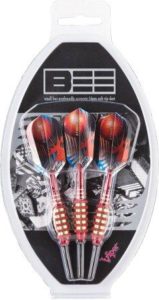 Viper Atomic Bee is very different than all the rest models on the list because it has a really short shaft. The quality of this shaft is same as in the other mentioned models which means that it is made of aluminum. The shaft is tightened well and will not require any work on it during the play. The grip is much different in this model. It is a big fat grip with multi knurls. Some players love this short darts with such a strong grip while others have a problem because this dart requires a specific throwing style and if you don't have it, then it is a high chance that your throws will bounce out more than it is normal. These darts are also not recommended for professional games where you need to put all three darts in a small box. The problem is that the body of these darts are fat and because of that is nearly impossible to throw all of them in triple 20 box. Because of that they are not widely used darts.
Vopa Professional 17 Grams Soft Tip Darts Set
Vopa Professional have the fixed weight of 17 grams, and that cannot be adjusted. Because of that fixation, we can't really say that this model will cover all professionals. Some professionals love lighter 16 grams darts while others are looking for more massive 18 grams darts. The good thing is that these darts are ideal for any electronic dart board thanks to adjustable soft tips. The grip is another good point on this model, with a long grip and with lots of knurls and rings many players will feel comfortable when playing with this darts. Vopa darts are ideal for amateurs because in this box you will get six darts instead of three like in other mentioned models on this list. And because of that Vopa Professional darts are maybe the best buy considering the price.
W.M Darts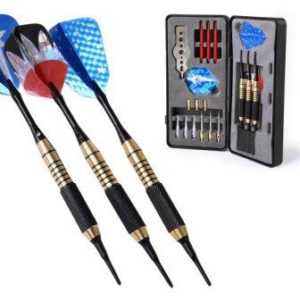 This model is ideal for beginners because if you just started playing darts then with this model, you can test various style of play. In this ideal darts gift box, you will get all kind of additional features. One of the most interesting is a steel tip converter which allows you to change soft tip darts to steel tip darts. The weight of this darts is between 18 grams and 20 grams which may be too heavy for most of the players. The grip on this dartboard is quite simple with no rings at all. Some players will not like the design of this grip because some of them may want to see some knurled rings on the hold. Everything else on this model is of standard quality and made of a conventional material.
GWHOLE 18g Soft Darts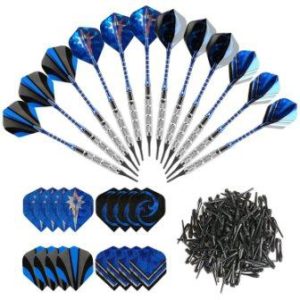 GWHOLE made a standard grip darts with nice knurling for a better grip and four rings that are strategically placed to provide an extra feel when throwing. Soft tips are nothing special and should work on most of the electronic dart boards. The barrel is made of high-quality nickel silver plate and provides an extra balance to the dart. In this considerable package for the extremely affordable price, you will get 12 darts. The darts are in parts so you can combine them on your own. The combination is ideal for professional players who want to use a different type of dart flights. In this package, you get four different type of dart flights.
Arachnid Tungsten Soft Tip Darts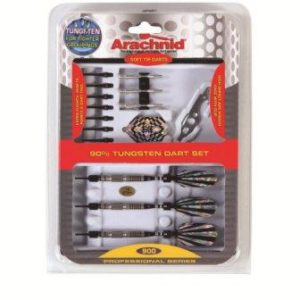 You can choose these darts with two variations 90% Tungsten or 80% Tungsten. All previously mentioned darts were made from the brass material. Darts made with the brass material are more massive and with such a large dart it is hard to get 180 points or to hit all three darts into a triple twenty. Because of that professional players use Tungsten darts which are skinny and you will without trouble hit 180 more often. Arachnid Tungsten Soft Tip Darts have 18 grams and come with one year guaranteed. In the box, you will get extra flights as well as additional soft tips. Arachnid darts work best with Arachnid electronic dart boards, but these darts can be used on many other models of plastic dart boards. If you are pro player or deciding to turn pro, you need to test Tungsten darts to see if your game will improve and if it does maybe you will be the next darts champion of the world.
Viper Diamond 90% Tungsten Soft Tip Darts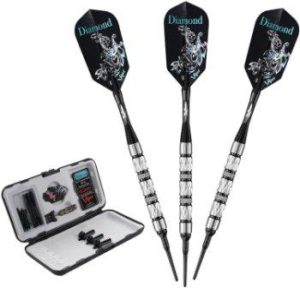 Viper Diamond are made for professionals that love skinny darts. Skinny darts can be fit easier in a small place like it is triple 20 which gives maximum amount a player can get in one round. Tungsten made a whole game different, and now players are mostly hunting for triple twenty. Before Tungsten darts players needed to have higher aiming skill because they were hitting other areas on the target board and not only triple 20. Because of that, we may even say that the professionals are nowadays not requiring precision skills as they were before because nowadays darts are more precise. Viper Diamond is made of high-quality material, and it has a very lovely grip with enough rings to help you be even more accurate than with other darts.
Final Thought
What soft tip darts to choose is a very hard question to answer if you are professional. If you are pro dart player, you just need that extra edge that will help you win the championship. You will need to test all kind of grips and all kind of weights, but there is only one material that is standard among professionals, and that is Tungsten. With Tungsten darts you can hit more points, and that is a fact. So if you are pro player, there are only two models for you on this list. If you are an amateur player, then it is really not that important which darts you choose, you should aim for the best buy darts and try them. The only concern for you is the grip. Grip with knurls and rings have many variations, and some of them will fit you more than others. So if you are amateur dart player use many darts, try them and see which grip is best for you.