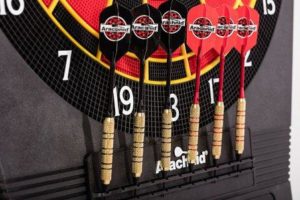 Arachnid has specialized them self in the production of high-quality electronic dart boards.  They produce various sizes and various types of dart boards. Arachnid 650 is made for pro cricket players who wish to have a regulated official tournament size dart board to practice for the competition in the cool basement. Being a cricket dart board, cricket pro 650 has five cricket games installed in the software and a huge scoreboard for easy to follow scores. Scoring is done automatically by the software, and you will not need to bother with paper and pen at any time. Other than cricket games Arachnid Cricket Pro 650 offers 24 games that come with 146 variations.
Arachnid Cricket Pro 650 Electronic Dartboard Features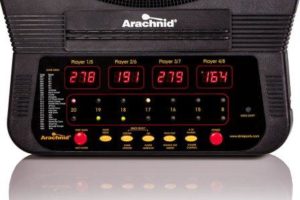 Arachnid Pro 650 is made with a high-quality material that guarantees lots of playing hours without wearing off the board. The durability of the board is long because it uses NylonThough segments that are an amazing feature we find in all Arachnid electronic dart boards. This dart board is also made with micro thin segment dividers that help with bounce outs. These high-quality improvements will provide the best experience while playing darts. Because of that pro players love to play on Arachnid dart boards and Arachnid Cricket Pro 650 is one of the favorite Arachnid dart boards for many experienced dart players.
Arachnid Pro 650 have Electronic Voice
The voice of the computer will call out shots, and when you are done, it will call next player. With this feature, you will never bother whos turn it is and when is your turn done. Unfortunately, Arachnid Pro 650 does not have heckler feature which is popular entertainment addition to the dart boards that provide extra fun.
Pros:
 created with premium material and patented Arachnid technology
enough games and variations to provide good playing time for beginners as well as experts
in the package, you will get six soft tip darts with extra soft tips included
up to 8 players can play the game
four players will have the score displayed on the board
dart board also has an option to play solo games
you will receive one year warranty
Cons:
 the price of this dartboard is maybe a bit high, I know it is a cricket pro premium dart board but without heckler and still, the price is above hundred dollars
Final Thought
Arachnid Cricket Pro series is very popular all over the world, and one of the best buy options when considering cricket darts. Cricket Pro 650 is made for the different type of players. Experts can enjoy hard games with a handicap or just by playing five different cricket games. Beginners can still play simple games that are easy to play and understand. Having such a broad range of players this dartboard is one of the most popular Arachnid electronic dart boards on the market. Whatever level your darts skills are if you decide to buy this dart board you will not regret it, and I am confident that this dart board will last for many years since it is made with the premium material.