About Halex Dart Boards
Halex is the well-known company all around the world, and they are most famous for their premium table tennis. They are manufacturing all kind of other toys for recreational use as well as a dart board. Halex dart boards are affordable and are used by amateur dart players all over the world. It doesn't matter in which part of the world you live if you enter the sports store and they are selling dart boards then there is a high chance you will be looking at the Halex dart board.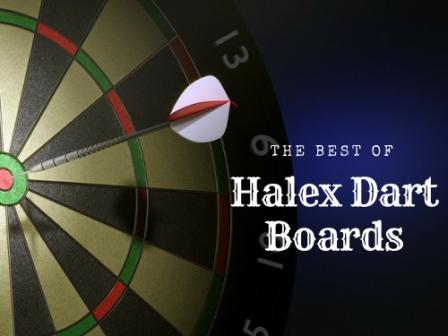 Halex dart boards are known by the target surface that is not bouncing darts. Halex also added some entertainment to the dart boards with software that harasses players for bad throws. Halex dart boards are made with plastic target surface or soft target surface for steel dart tips. Dart boards are made with a professional touch, and the material used in the manufacturing process is of high quality. Halex produces dart boards for the wall as well as premium dart board cabinets. The Halex electronic dart boards have a visible LED display for more comfortable following of who is in the lead. But Halex also produce dart boards that are made of steel tips and this dart boards does not have electronic, they are made from paper.
Best Halex Dart Board for Sale
Halex Zeta Electronic Dartboard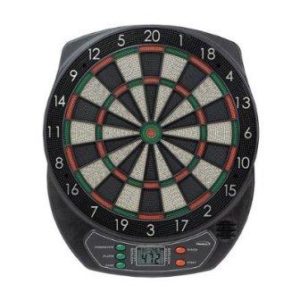 Just like the name says, this dartboard is electronic which means score will be displayed on the dart board screen. The board is made for soft dart tips which are included in the packaging. You will receive six darts, and that just means that as soon as you place the Halex dart board on the wall, you will be ready to have some fun. You will also receive extra soft tips in case the current one gets broken.
The screen display is not significant and will show the score for only one player. Maximum players that can play this dart board is 8, and you can select from 20 different games including cricket games. The game also allows selection of 65 different level variations.
Halex Impact Electronic Dartboard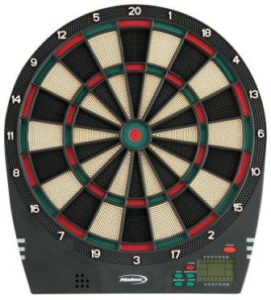 Halex Impact is another simple Halex dartboard. For this dartboard as well as for Halex Zeta all you need to have is AA Batteries and a wall. Both of the dart boards are incredibly affordable, and because of that, they are an ideal choice for amateurs and beginners that just want to have some fun with friends. 13,5″ target area is a little bit smaller than the official tournament dart board target area, but it is good for polishing your throwing. If the target is small, then it is hard to hit it and if you get that skill to hit the small target then to hit the big target will be easy for you.
Halex Impact offers 21 games with 65 different levels to choose from. That's more than enough to keep an average darts player occupied for some time. The display screen is small and will show scores of players as well as scores for the cricket games. This Halex dart board also comes with six soft tip darts.
Halex Competition Paper Wound Dartboard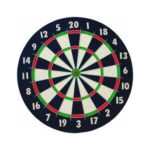 Some people love to throw darts a little bit harder, and because of that, they prefer steel dart tips. Steel dart tips are usually used on soft target areas like the dart boards made from paper. This Halex dart board includes six steel darts with steel tips. There is nothing much to say about this dart board because all you need to do is place it on the wall and throw darts. The quality of the target area is good enough to serve you for years.
Halex Championship Bristle Dartboard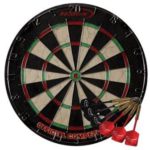 This dart board is another affordable darts product for everyone that like to jump into a party of a good fun darts. The board is ideal for steel darts which are included in the package. The target area is made of sisal fiber which is a high-quality material that guarantees longevity and lots of time play. Sisal fiber restores the hole after you pull the dart. Removal metal ring on this dart board is ideal for easy board rotation that can also help with durability. The damage on numbers that get hit often can be restored by rotating the metal ring.
Halex Tournament Bristle Dartboard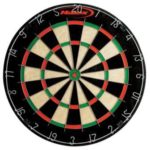 Halex Tournament is having the same characteristics like the Halex Championship. It is also made with a metal ring with a target area that is made from sisal fiber which guarantees a lot of playing years. The only difference is in size and, that Tournament version is the official size and target area for the Tournaments. This dart board includes six darts with steel tips. I can say that both Tournament and Championship dart board are made of same quality, and there is really no significant difference among them.
Halex Nottingham Bristle Dartboard Cabinet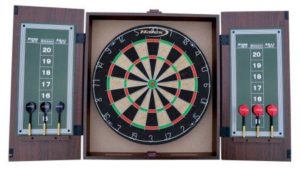 For a darts enthusiast that not only love the game but prefer the high-quality item on their wall Halex brings Halex Nottingham Bristle Dartboard Cabinet. The cabinet is made from walnut wood and will be a beautiful decor in any entertainment room. This dart board cabinet is made for Cricket game. On each side of the door is an erasable scoreboard and in the package, you will receive two erasable markers. With this markers, you can easily keep the score. Six steel dart tips are also included in this cabinet. The target area is made of high-quality material, and the board also has a metal ring which you can rotate and extend the life of the board.
READ NEXT: Viper Dart Boards or Arachnid Dart Boards 
Final thought
Halex is the dart board manufacturer that focus more on amateurs, and because of that, they provide low budget dart boards that anyone can afford. They produce electronic dart boards as well as dart boards for a darts with steel tips. Whatever style you prefer I am sure Halex can cover you. Halex dart boards come with premium quality, and I am sure whichever you pick from the list above, it will serve you good for many years.