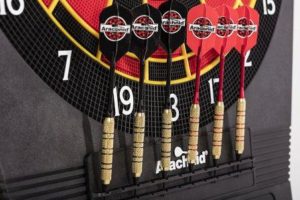 Arachnid Cricket Pro 800 is a tournament quality electronic dartboard with the official target area of 15,5″. The quality of this board is not in question because Arachnid is a brand that guarantees quality. Arachnid always uses a high-quality material in their dartboards. Because of that the Arachnid 800 is also made with advanced technology to provide the highest pleasure while playing darts. Arachnid cricket pro 800 electronic dartboard is built for people who want to have maximum fun while playing darts and not to be bothered with counting scores and whose turn is to throw.
Arachnid Pro 800 Dartboard Features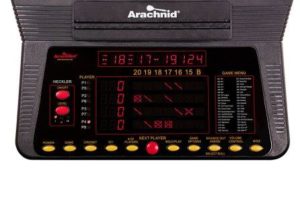 Arachnid Cricket Pro 800 is an electronic dartboard which means that the board will record scores and keep the game going on. Maximum 8 players can play the game while only four scores will be represented on display. The display is large enough to provide visibility even from a large distance.
Arachnid Cricket Pro 800 features 39 games with 179 variations. And since this is a cricket dart board, then seven different types of cricket game is provided in this dart board.
The target area is of an official size which means competitions can be hosted on this dart board. The target area is also made with an advanced technology called NylonTough segments. These segments provide durability of the board and playability. Everything is made with the last touch of micro-thin segmented dividers which drastically reduce bounce outs.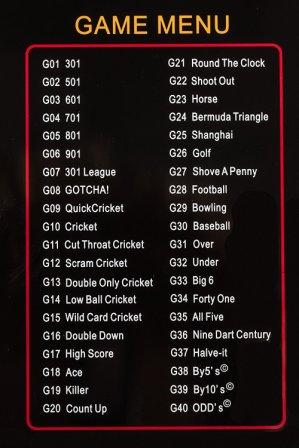 Arachnid 800 has many options to choose and many buttons to push. On first sight, it may look like some complex dart board, but it is not. Buttons that are very useful while playing darts is bounce out amend, miss, next player, and selection of the game. These options are mostly used during the game. Miss button is very useful if a player misses the whole board, then you should click miss. Next player button needs to be clicked while the player is done with its three hits.
Heckler feature is one of the most popular electronic dart boards features because it will entertain the audience and players. It has three levels, and on each level, it will more or less entertain players. Heckler mode will applaud good hits and mock the bad ones and in that way entertain players or make them nervous when doing next throws.
Solo mode is also available on this board. Solo mode is ideal when you are lonely and just wants to train darts. Many professional darts players are throwing darts solo. In that way, they can without a pressure train and repeatedly hit the same target.
In the Arachnid Cricket Pro 800 package, you will get everything you need to start playing darts including a six soft tips darts.
Pros and Cons of Cricket Pro 800
Pros:
Arachnid Cricket Pro 800 is premium; high-quality electronic dart board build for amateurs as well as professionals
lots of options and features are provided with the board
some electronic dart boards provide games for only four players, but Cricket Pro 800 provides scores for up to 8 players
Arachnid has advanced target areas with reducing bounce outs and a high sensitive area which give a correct and fair scoring
The board also has Heckler mode for extra entertainment
high-quality darts are also included in the package
dart board can be easily mounted on the wall, and the usage of the board is simple enough for everyone
high-quality darts with extra soft tips are included in the package
Cons:
some electronic boards can serve up to 16 players, but Arachnid pro 800 can only do 8
Final Thought
The price for Arachnid Cricket Pro 800 is not small, and maybe that is the only problem why we don't see this dart board in amateurs basement. But beginners and players that want to get better at darts love electronic boards because they provide extra entertainment and have solo play option. With a solo play option, you can just focus on throwing darts and not need to be bothered with counting scores. The quality of the Arachnid Cricket Pro 800 is the same quality as the expensive standalone dart boards we see in pubs, and because of that, this is actually affordable electronic dart board despite the fact that it cost more than usual dart boards for home.