About Electronic Dart Boards
Electronic dart boards are more popular than standard bristle dartboards in today's darts world. And there are many reasons why amateur players, as well as some professional players, prefer electronic dart boards over bristle no electronic dart boards. One of the primary reason to choose electronic dart board over bristle board is scoring.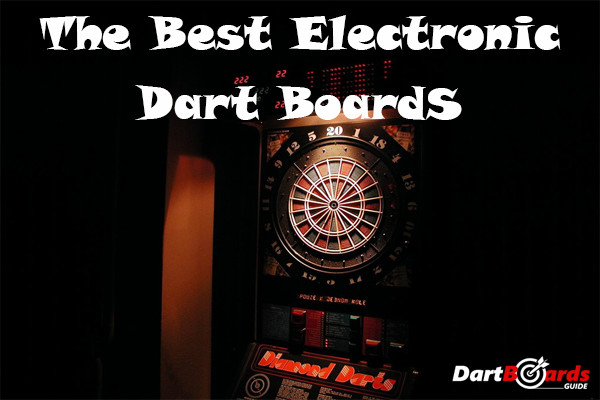 Scoring in electronic dartboards is done automatically, the board will count all the score for all the players. That is a considerable advantage over bristle dart boards where you need to use paper and pen and manually do the counting. Display of the scores is also electronic dart boards advantage because the score is displayed on the board and everyone can see the current standing in real time. Another useful feature of electronic dart boards is lots of build in games with options to choose from. These various types of darts games guarantee a longer fun playing darts. Handicap is also possible so amateurs can have fun playing against professionals.
Bristle boards will wear off with time and the more you play, the more damage you are doing to the dart board. With the electronic dart board that is not the case, because electronic dart board uses a plastic target area with spider holes which catch the dart and hold it in position. The damage dealt with the target area is minimal, and if the dart board is made of high-quality plastic, then you can be playing darts on the same dart board for ages.
Electronic dart board uses soft tip darts which require precise and slow throwing while bristle dart boards require a stronger throw because it uses steel tip darts which need to have the power to stay on the board. On plastic darts with plastic target area even if the dart is not on the board, the electronic may register the hit. Now some players use that as a miss, and some leave the registered score. Honestly, I don't know what is the official stand on this, if you know the answer, please leave the comment below in the comment box.
READ NEXT: Best  Magnetic Dart Boards
Various Types of Electronic Dart Boards
All electronic dartboards have score display, and that is a standard feature. But just like bristle dartboards, there are cabinets and standalone arcade style dart boards. Still, the majority of the electronic dartboards are affordable and extremely simple to set up on the wall. Because of simplicity and ability to provide more entertainment to the players than bristle dartboards people are spending more money on them.
Best Electronic Dart Boards
| Name | Picture | Game | Target Area | Price |
| --- | --- | --- | --- | --- |
| Fat Cat 727 | | 18 | 13″ | |
| Franklin Sports FS6000 | | 28 | 15,5″ | |
| Best Choice Products Electronic Dartboard | | 27 | 17.25" | |
| WIN.MAX Electronic Soft Tip | | 21 | 16.5" | |
| Viper 777 | | 43 | 15.5" | |
| Viper 797 | | 43 | 15.5" | |
| Bullshooter by Arachnid Marauder 5.0 | | 38 | 16.5" | |
| Fat Cat Electronx | | 38 | 13.5" | |
| Arachnid Cricket Pro 800 | | 39 | 15.5" | |
| Arachnid Cricket Pro 650 Standing | | 24 | 15.5" | |
BEST 10 ELECTRONIC DART BOARDS REVIEW
Fat Cat 727 Electronic Soft Tip Dartboard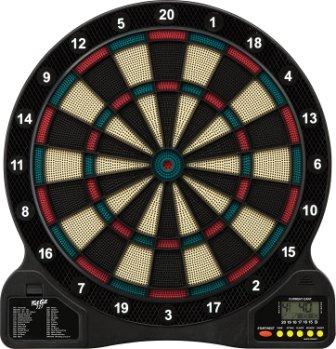 Cat 727 is one of the most affordable electronic dart boards on the market. For only a few bucks you can get a dart board with 18 games and 96 different options to choose. In the package, you will also receive six soft tips darts. This dart board is not expensive because it has smaller target area of 13″ which is not an official standard. The other problem is that it has little display and it displays a score of only one player at the time. For this low price, it is a very good dart board with some deficits that most of the amateur players won't concern. Because of that, this is one of the best beginners dart boards.
Franklin Sports FS6000 Electronic Dartboard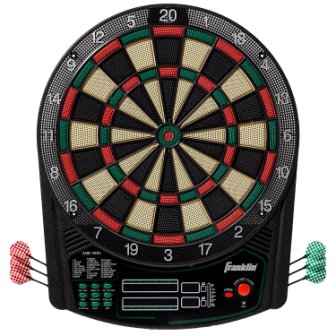 For few more bucks, you can get an electronic cricket dart board which has a display for two players. Franklin Sports FS6000 also has more games to offer, 28 games and 167 variations of this games. That is in range of most popular electronic dart boards. But the most important fact you will get for this extra dollars is official 15,5″ target area. That means that even if you are new to the game, you can train on the official dart board. This dart board is simple to use and easy to set up. It comes with six darts, and you are ready to play darts as soon as you plug the power adapter into the wall.
Best Choice Products Electronic Dartboard Sport Game Set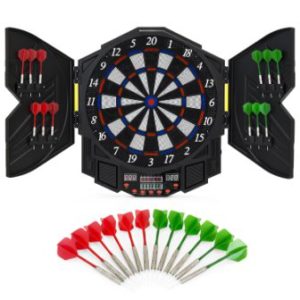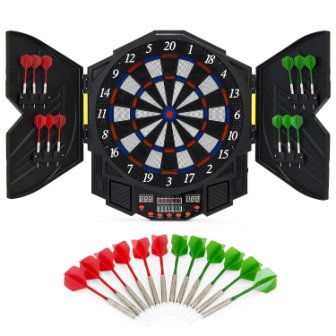 Best Choice Products made the cheapest dart board cabinet in the world. Of course, for such a low price you can't expect to have wood in production. Instead of wood everything is made of plastic and to tell you the truth the outside doors of this cabinet look like they are made from cheap plastic. Because of that, I am not recommending this electronic dart board cabinet to the people that wish to have a beautiful dart board cabinet in the room. This electronic dart board cabinet is made for kids room because that is how it appears. If the design is not bothering you, then this is actually a very good dart board because it has 27 various games with 216 variations. And in the package, you will get 12 soft tip darts. And the software of this soft tip dart board is reliable, it can hold up to 8 players in the game. Overall this is a decent dart board for beginners and young players.
WIN.MAX WINMAX Electronic Soft Tip Dartboard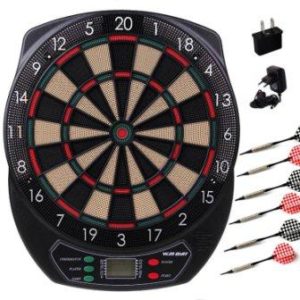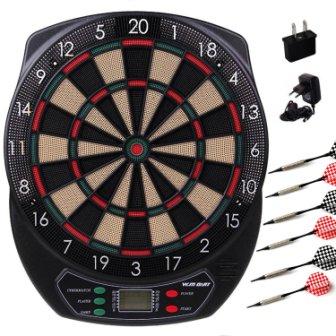 Winmax dart board is first dart board that is made of real quality material. Target area has ultra thing spider for reducing bounce outs as well as wide catch ring for missed shots. The board is made for eight players but if you like you can even play solo games. You can choose from 21 different games with 65 variations. I need to say that the display on this board is very small, but the board has automatic scoring, sound effects and voice announcer. If you compare this board price with other models with a lower price on this list, you will see that this dart board is kind of expensive and provides fewer games and has maybe even the smallest display of all dart boards on this list. But the catch is in quality, six soft tips darts included in the package are made of high-quality material as well as high-quality plastic is used to make this dart board. I can recommend this board to regular players who appreciate good darts and decent board.
Viper 777 Electronic Soft Tip Dartboard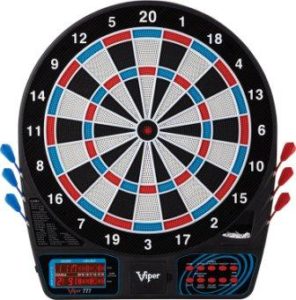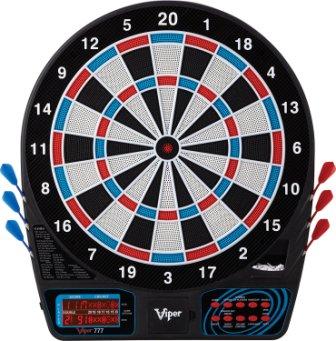 Viper is one of the leaders in dart board production. They are making all kind of dart boards. Viper 777 is an interesting dart board with official size target area with tournament quality. The playing surface is extremely durable, and the ultra-thin spider will reduce bounce outs. The board also has two languages, English and Spanish. Voice will speak and lead the game in the selected language. The board has huge 43 games with 320 options which will provide lots of darts pleasure. It can serve up to 8 players. Scoreboard display is large enough and is providing stats in real time. Colors of the target area are different than previously mentioned boards, and some people prefer white color on the target area, it provides more visibility and more comfortable aiming.
Viper 797 Electronic Soft Tip Dartboard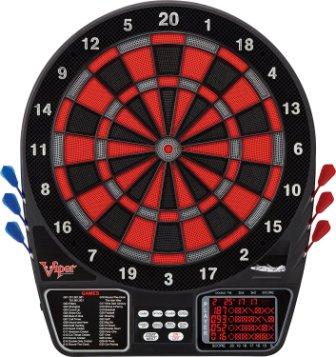 In case you don't like the white color on the target area you can buy Viper 797 which is having red color instead of white. But that is not all that this board has different. This board has 43 games with 240 various options. 16 players can play darts simultaneously on this board. Score display is very large, and you can see your score from a considerable distance. Target zone is official size 15,5″ and everything is made with latest Viper technology. That means that high quality and durability of the board is guaranteed. The board comes with six soft tip darts, and you will receive one year warranty.
Bullshooter by Arachnid Marauder 5.0 Electronic Dartboard Cabinet Set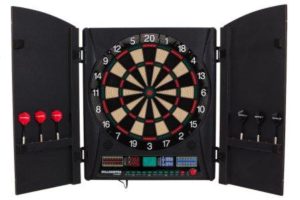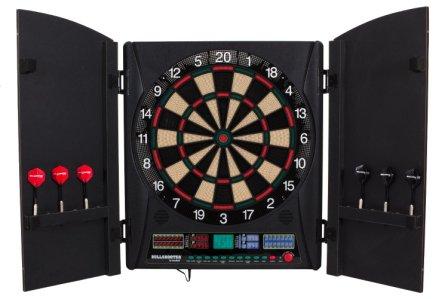 Arachnid is the most popular dart board manufacturer. They produce various types of dart boards, and Marauder 5.0 is a nicely designed cabinet with a powerful dart board inside. This dart board has four dedicated scoring displays which mean that at any time you can monitor scores from 4 different players. On this dart board, you are able to play 38 games with 137 options to choose. Like many other Arachnid electronic dart boards, this one also has Heckler mode for harassing and applauding players. This electronic dart board cabinet is perfect for having parties and playing some darts with friends. Wooden doors and whole cabinet is made of high-quality wood, and the cabinet will be an excellent addition to any entertainment room.
Fat Cat Electronx Electronic Soft Tip Dartboard with Cabinet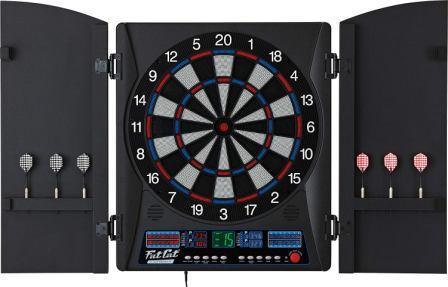 Electronx is a premium electronic dart board cabinet made by Fat Cat. This board has nothing to do with already previously mentioned Fat Cat electronic dart board on this list. This dart board is made of high-quality material and provides a large scoring display that simultaneously shows scores of 4 players including cricket scores. Because of that high-quality scoring ability, this board is one of the best for holding tournaments or competitions at home. This dart board has 38 games with 167 different options for each game and can hold up to 8 players simultaneously. The cabinet is also made of durable material, and it is nicely designed to provide an attractive addition to the entertainment room. Six soft tip darts are included in the package with spare tips in case you demolish some of the tips with bad throws.
Arachnid Cricket Pro 800 Electronic Dartboard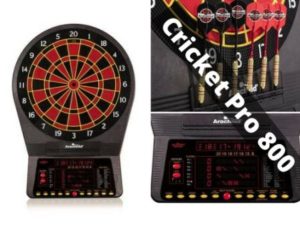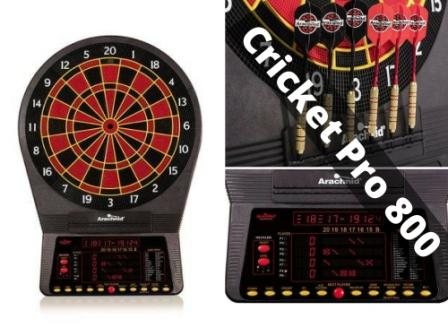 Arachnid produces this dart board for all cricket players all over the world. The target area is in official sizes, and everything is made with a high-quality material that is used in all Arachnid dart boards. They are offering only the best possible dart boards. The display is large and shows all statistics. Scoring board is focused on cricket, and at any time you can see who is performing well and who is not doing so good.  This dart board can serve up to 8 players. In the board are included 39 games with 179 options including 7 different cricket games. Micro thing segments and NylonTough segments improve durability and playability as well as reduce bounce outs. Cricket Pro is just what the title says, made for Pros who want to train or have some fun in their basement or entertainment room. Arachnid Cricket Pro 800 is also good for amateurs that wish to feel the play on a tournament quality dart board.
Arachnid Cricket Pro 650 Standing Electronic Dartboard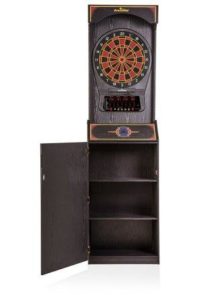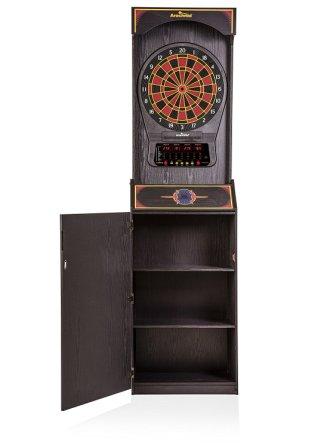 Arachnid Cricket Pro 650 is a real pub stand-alone dart board. Like already mentioned Arachnid dart boards are premium quality products that provide entertainment for many years. The same thing is with Arachnid Cricket Pro 650, but this dart board is more than just playing the game, this dart board will give you a real pub playing pleasure. The display on the dartboard is large, and you can see real-time scores for four players simultaneously. The board can serve up to 8 players, and they can select one of the 24 games available including 132 options to choose. This dartboard is made for real darts lovers who wish to play some real pub darts at home. If you own a pub and you want to put dart board in it, then Arachnid Cricket Pro 650 is ideal for that. Players will have a real pub version of darts, and you will be able to sell them more drinks.
Final Thought About Electronic Dart Boards
Quality among the previously mentioned dart boards vary. Some of them are made of high quality and are focused on more demanding darts players while others are meant for amateurs or beginners. Choosing the right dart board for you will depend on the level you play. If you are playing darts every day, then I can highly recommend going with the most expensive electronic dart board because you will get what you paid for. But if you are looking to buy a present for the kid, or you just want to play for fun with your friends in the basement then maybe a low price electronic dart boards are the best solution for you. Whatever board you buy from the mentioned list I am sure you will not regret it because all of the brands are known by their good reputation.
READ NEXT: Best Inflatable Dart Boards
READ NEXT: Best Outdoor Dart Boards