About Outdoor Dart Boards
When having a barbeque party, the best entertaining game you can play is outdoor darts. Darts will bring the party to a whole new level. Little bit competition between the snack and a beer is always welcome. You can play outdoor darts on any mobile outdoor dart board. Just take it and place it on the tree or garage wall. But you should never leave your dart board outside because rain and severe weather will ruin the board very fast. Some outdoor dart boards are more resistant to bad weather than others. Bristle dart boards are not good for the outside play. But if you want to play with steel tips and use bristle dart board, then you should buy outdoor dart board cabinet. Cabinet can protect dart board during the bad weather and additionally you can cover the whole cabinet with an extra plastic cover just to make sure no water or humidity gets inside the dart board.
READ NEXT: Best Cheap Dart Boards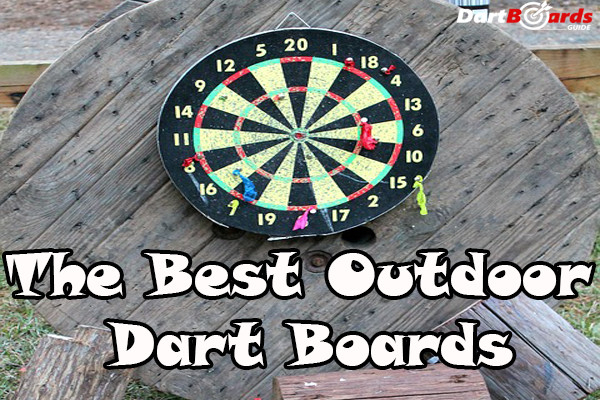 Another solution to play darts outside is to use dart boards made from plastic. Rain and bad weather will not harm this dart board. But be careful not to leave it on the hot sun because plastic with time may melt. If plastic is not the way you want to go, you can always use magnetic dart boards which are extremely safe for kids since they don't have sharp edges.
Best Outdoor Dart Boards
| Name | Picture | Type | Cabinet | Price |
| --- | --- | --- | --- | --- |
| Winmau Blade 5 Dual Core Bristle Dartboard | | Steel Tip | No | |
| Viper Neptune | | Soft Tip | Yes | |
| Fat Cat Electronx | | Soft Tip | Yes | |
| American Heritage Athos Dart Board | | Steel Tip | Yes | |
| Nordon Supawire | | Steel Tip | No | |
| WIN.MAX Blade | | Steel Tip | No | |
| Viper Shot King Sisal | | Steel Tip | No | |
| Viper League Pro Sisal | | Steel Tip | No | |
| DMI Sports Deluxe Dartboard Cabinet Sets | | Steel Tip | Yes | |
| Hathaway Centerpoint Solid Wood Dartboard | | Steel Tip | Yes | |
| Viper Vault Sisal | | Steel Tip | Yes | |
| Imperial Officially Licensed NFL Darboard | | Steel Tip | Yes | |
| Rabosky Roll-up Magnetic Dartboard Set | | Magnetic | No | |
| [email protected] Portable Double-faced Magnetic Hangin | | Magnetic | No | |
| BXT – Magnetic Sscore Dartboard | | Magnetic | No | |
| BETTERLINE Safety Dart Board Set | | Soft Tip | No | |
Best 10 Outdoor Dart Board by Our Opinion
Winmau Blade 5 Dual Core Bristle Dartboard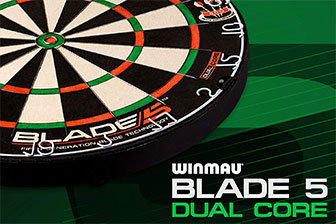 This bristle dartboard is genuinely a good quality dartboard of professional standards; with an increased scoring area and a dart deflection which helps to reduce any possible bounce out. It is a great dartboard for all the true darts lovers. If you're passionate about darts and have some experience in it, this dartboard is the perfect choice for you.
As it is easily mountable; thanks to its triple wheel lock-and-level system, the enjoyment in the game will be even greater since you'll be able to secure it to basically any surface. However, remember that after you've finished playing, remember to put this outdoor dart board back inside to prevent its damaging and prolong its durability as well.
Viper Neptune Electronic Soft Tip Dartboard with Cabinet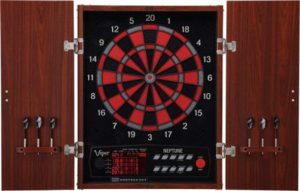 Dartboard cabinets are a great choice when it comes to playing outdoor darts. Since the dartboard is well protected, your main concern is how to protect this gorgeous dark wood cabinet form any kind of bad weather. However, there's no need to worry about that; wood can be protected with many different covers and materials and techniques. If you are opting for the easier way; you can always cover this outdoor dartboard cabinet with nylon. Otherwise, you can always polish it against humidity and water, to make sure it doesn't get damaged as quickly as it would have otherwise. Still, the best option is to take it inside, just to be sure nothing will damage it.
This set comes with 57 games, 307 options and includes a good quality dartboard with 6 soft tip darts and a mounting hardware for an easier setup. It is a perfect choice for fun nights with friends; it can accommodate up to 16 people.
Fat Cat Electronx Electronic Soft Tip Dartboard with Cabinet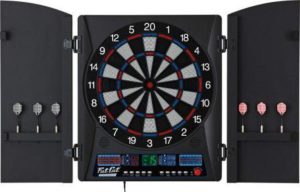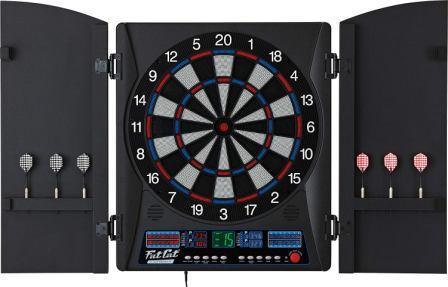 Just as with the previous cabinet, this one is a great set as well, it is adaptable to the outdoor darts, but since it is electronic, it must be taken inside afterward. That being said, you are free to enjoy a good game of darts with your friends, as this great set offers you 38 games and 167 scoring options. It can accommodate up to 8 players, so you won't have to worry about whom to invite, as 8 people are more than enough for a good darts game with enough healthy competition and fun. This is a purchase any true darts lover will gladly complete.
American Heritage Athos Dart Board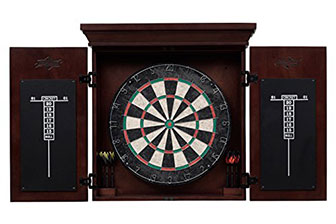 Yet another great cabinet set for a fun pass time with your friends. Just as the previous outdoor dartboard cabinets; this one will provide you with everything you need. It contains a professional bristle dartboard as well as two weighted dart sets and a scoring system. More than you need to keep your friends in a good mood over a great game of darts. As it is a cabinet; you know your bristle dartboard will remain safe from humidity and rain. Nevertheless, you should do everything you can to protect the cabinet form bad weather conditions as well. The rules are the same as with the previous wood cabinet. You can either cover it up with nylon or polish it against rain and humidity. However; if you want your dartboard set to last long and keep you entertained, the best thing would be to take it inside after you finish playing.
Nordon Supawire dartboard
Another great bristle dartboard that can be a perfect choice during an outdoor darts tournament with your friends. Furthermore, it has an improved scoring area and comes with a 1-year warranty. This tournament approved dartboard is a great choice for your pure fun with an outdoor dart board. Moreover, it has a supawire bands and dividers that help minimize any possible bounce out, for an even safer darts experience. This good-quality bristle dartboard will make your darts experience unforgettable, just keep in mind to take it back inside after you're done playing since you don't want to ruin it due to negligence. What more do you need for an incredible and fun day outdoors?
WIN.MAX Blade bristle dartboard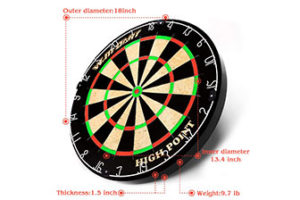 One more great bristle dartboard used by professional players and tournament approved. That being said, it is a perfect choice for those with some darts experience, who know how to handle such a board as well as enjoy it. It can be used as an outside dart board if you want to host your family and friends in your backyard for example and keep them entertained with a good game of darts. It is easily mountable, as well so you'll have more time for the game alone. Among other things; it comes with a rotatable number ring which will prolong the duration of your dartboard significantly; as it prevents the stress of your favorite aiming position in relation to other parts of the board.
Viper Shot King Sisal/Bristle Steel Tip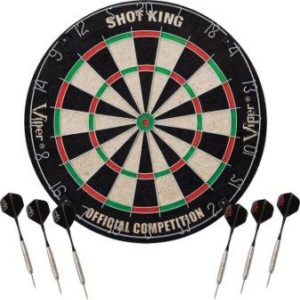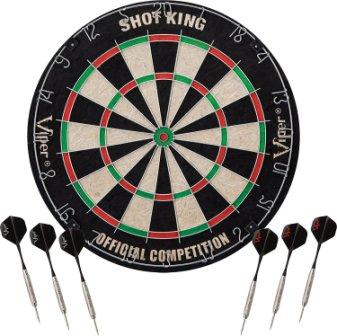 Shot King Official Competition dart board is made from sisal, bristle, and that means you should never leave it outside during the rain or when humidity is high. The bad weather can really damage this dart board. And I need to say that all the previously mentioned dart boards are made for kids and entertainment purposes only. Shot King and the dart boards that follow in this outdoor dart board review article are all good for professional play. Shot King is made in the official size and comes with six high-quality darts. To use this dart board outside you will need to mount it on some portable mount. You can either place it on a removable wooden plank which you take down and bring inside during the bad weather, or you can make a whole portable mount. But without question this dart board will not be easy to move, it will need some effort, not like others where you just take it and bring it inside.
Viper League Pro Sisal/Bristle Steel Tip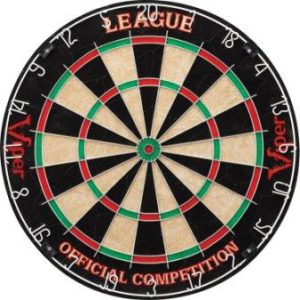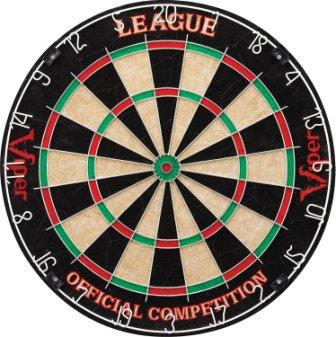 There is not much difference between this Viper dart board and previously reviewed Viper dart board. The only difference is that this one is called League Pro and previous one is Shot King. Colors are different as well. The quality and everything else is the same. Also, the same problem with mobility is present here. You will need to be a good handyman to mount this dart board on something that is portable and something that can be moved inside the house fast. This dart board package comes with cricket scoreboard kit, and if you attach this to the portable plank, then that will be one huge plank that needs to be moved to the safe place during bad weather. With that in mind, I can say that this dart board is even worse considering the mobility. Because of that, you should maybe consider some material to cover the dart board during the bad weather.
DMI Sports Deluxe Dartboard Cabinet Set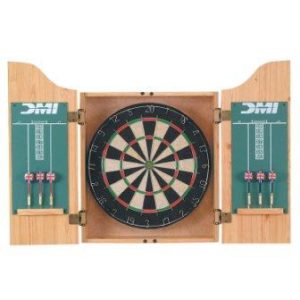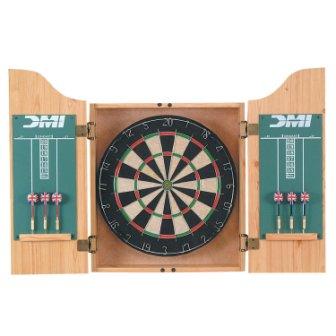 Cabinets are the perfect way to play darts outside and not being bothered by bad weather. The dart board is protected well inside the cabinet, and your only concern is to save cabinet which is made from wood. You can protect it in several ways. You can use some covers, like nylon which is very good against rain or you can protect wood by polishing it against humidity and water. There are many products in the marketplace that can make wood durable during bad weather.
In this cabinet, you will get a decent dart board that is built in official size. On the doors are scoreboards for cricket. Six darts are included in the package, and that just means you are ready to play as soon as you mount this cabinet on the wall.
Hathaway Centerpoint Solid Wood Dartboard and Cabinet Set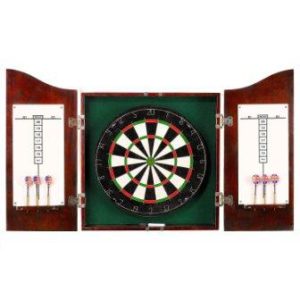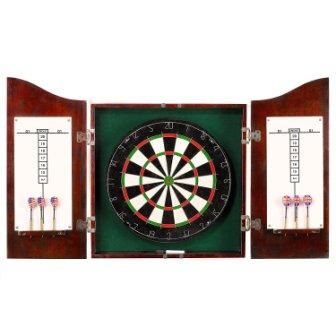 This cabinet from Hathaway is without a doubt made of high-quality wood. Solid, high-quality wood promise durability even in bad weather. But still, it would be a shame if you don't protect this lovely cabinet with a cover during bad weather. Inside the cabinet is sisal fiber dart board which is very sensitive to water, so make sure no water is leaked inside the cabinet. On each door of the cabinet are two scoreboards, perfect for a cricket game. Chalk and eraser are included in the package. Two steel tip darts sets are also included in the package; one set is with American Flag and other with British Flag flights. This cabinet can be mounted outside and during the rainy day you can without a problem take a whole cabinet and bring it inside.
Viper Vault Sisal/Bristle Steel Tip Dartboard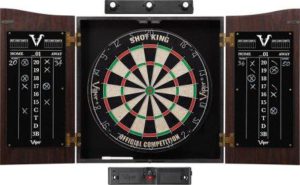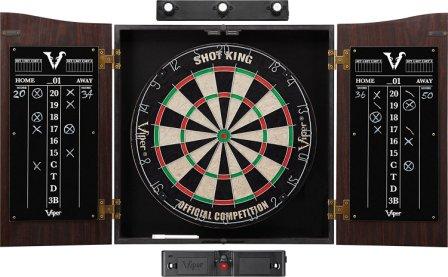 Viper Vault cabinet is made for professional dart players and those who love to play darts with high-quality equipment. The wood used to construct this good-looking cabinet is a high-quality material and will for sure not get damaged even if you leave this cabinet outside. But this cabinet is costly, and it is not wise to leave this piece of dart equipment outside for a long time. Not only it may get damaged, but also thief's could lay fingers on this beautiful dart board. Inside the beautiful cabinet is Shot King Official Competition dart board together with two scoreboards for cricket. I can highly recommend this dart board to a real darts players who just love to play darts on high-quality equipment. Maybe you will have an extra job to move this cabinet from inside to outside often, but trust me it is worth the extra hassle.
Imperial Officially Licensed NFL Merchandise: Dart Cabinet Set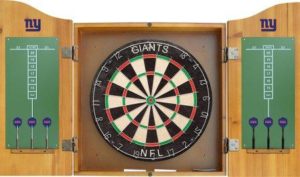 This dart board is made for NFL fans, you can choose your NFL team, and on the doors of the cabinet, you will have your favorite team logo. The dart board which is made of high-quality sisal fiber will also have the name of your favorite team. Even the darts will have flights with a logo from your favorite team. Other than that fancy stuff that a real NFL fan needs the dart board and darts are made of high-quality material and will offer lots of playing time. The cabinet can easily be mounted and place outside. For dismounting it and moving it inside you will probably need to put some effort but it is worth to protect NFL dart board cabinet. Next time your friends come for the barbeque you can show off with your lovely fancy NFL licensed dart board cabinet whether you are playing outside or inside the house.
  Rabosky Roll-up Magnetic Dart Board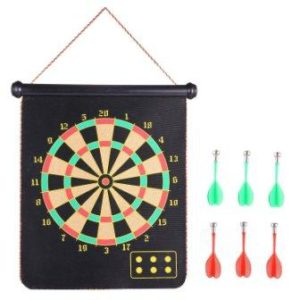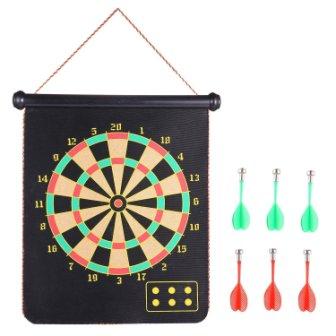 If you are looking a good and safe dart board for your kids, then this is the ideal outdoor dart board for you. Instead of sharp steel tips or even soft plastic tips, this dart board is using magnetic tips. On darts, there is a magnet that gets attached to the board. This dart board can easily be folded and moved from place to place and because of that is an ideal solution for outdoor as well as indoor play. You can just hang it anywhere you like. The only problem with this dart board is that I can not recommend this to any real darts player. Magnetic darts are so much different from real darts, they fly different and land differently. If you are serious about your dart game, you would never play darts on magnetic dart board. But on the other hand, people who are looking to have some fun will not bother what kind of darts they are throwing as long as they have fun. Because of that, this is one of the best and most affordable dart boards for the outdoor fun play. But don't expect anything other than fun from this board.
[email protected] Portable Double-faced Magnetic Hanging Dart Shot Dart Board Shot Game Toy Set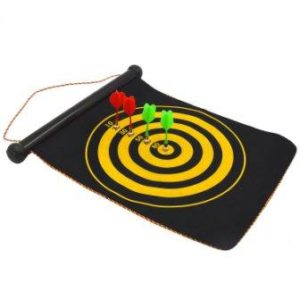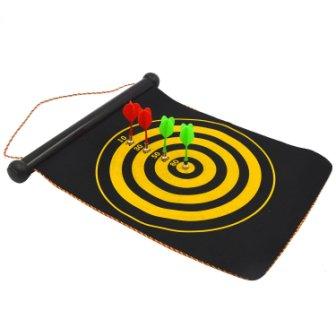 The same thing can be said for [email protected] magnetic outdoor dart board. You can without any hassle hang this dart board anywhere you like. Just make sure the surface is hard or else the magnetic darts will not land properly and will bounce too often. This magnetic dart board is ideal for parties, pub and bar play. The board can quickly be moved from one place to other, and that makes this magnetic board ideal for outdoor play. You can leave it outside for a long time, and when bad weather comes, you can just fold it and bring it inside. Once the weather gets clear, you can fold it out and play it outside again. And all of this can be done without real trouble, no tools or anything is needed, you can dismount this dartboard in 1 second. But just like the previously mentioned dart board, this one as well is not giving a real darts feel. Magnetic darts are so much different than real ones, and if you love darts game, then you will hate playing on magnetic dart boards. This dart board set comes with four magnetic darts, and because of that, it cost a few dollars more than the previously mentioned magnetic dart board.
Betterline – Safety Dart Board Set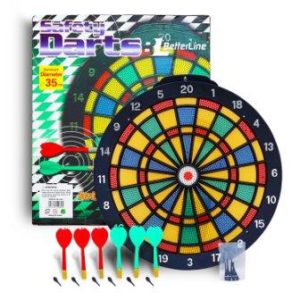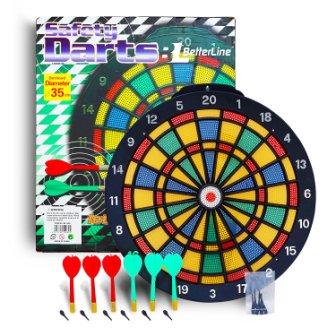 This soft tip dart board is called safe because it uses plastic tips instead of sharp metal tips. But you need to understand that this plastic tips can also be dangerous and still you should not leave your kids playing with them without parental supervision. This dart board size is 1.8 inches, and it has everything set just like a real official dart board. It is made from plastic which means it can be longer outside. And if really nasty weather comes, you can just take it down from a tree and bring it in the house. It is very portable because the whole dart board can be hanging on one nail. Since the dart board is not heavy, you can without a problem carry it inside.
Betterline dart board is ideal for kids but as well as for adults. The quality of the board is good enough to serve you for many years. Maybe expert dart players will not like this dart board made for fun, but still, they can show the skills on this dart board if they want.
BXT – Magnetic Score Dartboard Kit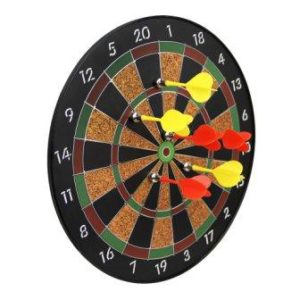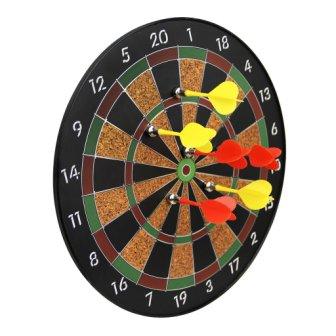 Magnetic dart boards are number one choice for kids. If you have kids that want to play darts buy them magnetic dart board and you can sleep with rest while they are playing with safe darts. There are no sharp edges and accidents of serious injury just can't happen. At the same time, the walls in your house or garage will be safe since the magnetic tip will not be able to do damage. BXT dart board is hard and lightweight. It is without a doubt a better choice than the previously two mentioned magnetic dart board. You will not have any troubles removing this dart board and placing it on other walls whether inside or outside the house. For a couple of dollars, your kids can have fun playing darts. The good thing is that in this package you will also receive six magnetic darts and you won't need to spend extra money to buy them.
Summary
There is really no special outdoor dartboard that you can leave outside on the bad weather and forget. Any material will wear off with time. Maybe plastic dart boards are great for bad rainy weather, but that same plastic dart boards will have problems on the hot sunny weather. The whole plastic dart board can be melted if the weather is too warm. Because of that any dart board, dart board cabinet and the electronic dart board can be used outdoors if you move it inside when you are done with a game. Ideal equipment for outdoor darts is outdoor dart board cabinet. They can easily be moved inside or even left outside with an additional cover.