Dart board cabinets cost more than a standard dart board mounted on the wall, and that is normal because dart cabinet is made of precious wood and other high-quality material to provide luxurious style. People who buy dart board cabinet are not only looking to play darts; they are looking to have a dart cabinet on the wall that will lift the decor of the room. Some of the premium cabinets are really done in such a way that every entertainment room would love to have such an item hanging on the wall.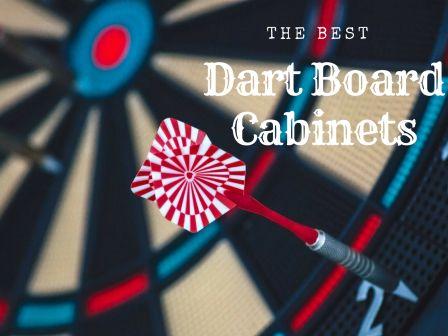 Dart board cabinet advantage is not only good looks and lovely decor, but they also come with extra items, like scoreboard, marker, throwing lines and dart holders inside the cabinet. Dart board in the cabinet is often Bristle dart board, but there are also some electronic dart board cabinets on the market. Having a cabinet on the wall also protects your wall from bad throws if the players are amateurs or under the influence of alcohol. Darts are often played on parties where alcohol is served, and if players have a little bit too much of alcohol, then darts may be thrown far away from the target and damage the wall.
Best Dartboard Cabinet Sets
Trademark Gameroom Darts and Dartboard Sets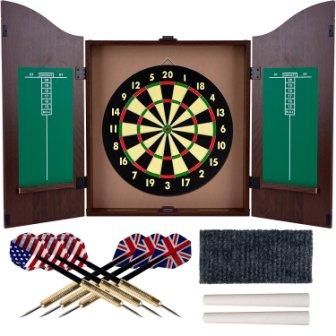 Trademark Gameroom made a most affordable dartboard cabinet set on the market. For such a low price you should not expect a high-quality material. The wood used in this dart cabinet set up is cheap wood and inside the cabinet is a standard dartboard with two games. Each game is on a different side of the dartboard. The dart board cabinet from Trademark Gameroom also has two eraser scoreboards which come with chalk and dry eraser. Six steel tips darts are included in the package, and that is everything you need to start playing darts. This dart cabinet I can only recommend to amateurs and beginners who wish to have more than just a dartboard on the wall.
DMI Sports Deluxe Dartboard Cabinet Set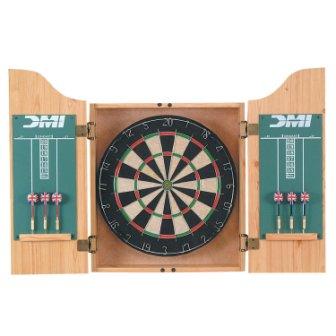 The much better quality material is used in this dart board cabinet which comes with oak or cherry finish. The dart board in the cabinet is also a higher quality dart board than the previously mentioned dart cabinet. DMI Sports Deluxe Dartboard Cabinet Set also has two scoreboards on each door including a darts holder. You can use chalk and dry eraser to clean scoreboard. Everything is in official size so you will not have problems if you are looking to hold a pro championship darts game in your basement. This dart board cabinet is ideal for people who wish to have a nicely designed cabinet in the basement where man plays some darts.
Check Price On Amazon
Hathaway Centerpoint Solid Wood Dartboard and Cabinet Set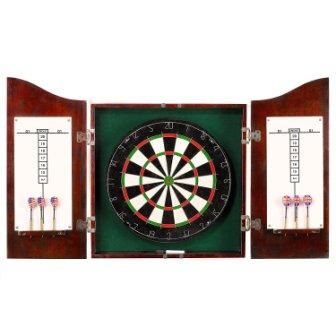 A massive step in the quality comes with Hathaway dart cabinet. This dart board cabinet is made of high-quality material, and dark cherry finish is really giving a nice style to the cabinet which will lift any entertainment room decor. The cabinet is made of hardwood and that just guarantees durability. Dart board is made from sisal fiber, and the size is official tournament size dart board. On the doors are two scoreboards with markers for easier score input. In the package, you will also get 2 sets of steel darts, one with USA flag flights and the other with United Kingdom flag. This dart board cabinet comes with 180 days limited warranty which only means that manufacturer believes in their product and you will be most probably satisfied with the quality and the design of the cabinet.
Viper Hudson Sisal/Bristle Steel Tip Dartboard & Cabinet Bundle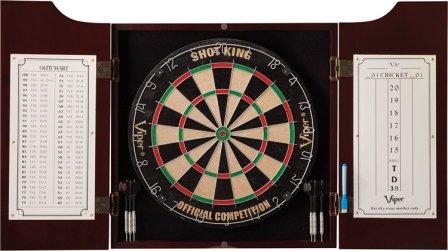 Viper is one of the leaders in making a sisal bristle dart boards. And in this cabinet, you will get their great Viper Shot King dart board which is used in official competitions all over the world. Dart board have staple free bullseye for fewer bounces from bullseye hits. Dart board have high durability which is extended with a movable metal ring. On one side of the cabinet you can use outchart and on the other is scoreboard with marker and eraser. Viper Hudson comes in 4 styles: standard, deluxe, premium, and elite. Elite is the most expensive package which comes with Viper Laser dart throw line. Cabinet and everything inside is same in all packages. The dart cabinet is made of solid pine and mahogany finish. This high-quality wood is an ideal material for a high-quality dart board cabinets every darts enthusiast will appreciate.
Bullshooter by Arachnid Marauder 5.0 Electronic Dartboard Cabinet Set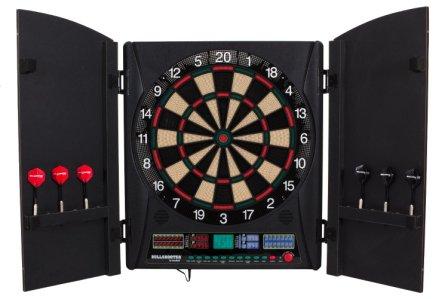 Arachnid as a dart board company is different than the previously mentioned companies. Arachnid is focused more on the electronic dart boards, and because of that in this dart board cabinet, you will play darts on an electronic dart board. The advantage of electronic dart board is automatic scoring and easy to follow scores on display. Another advantage is that the electronic dart boards come with games and options. In the Bullshooter by Arachnid Marauder 5.0 is an electronic dart board with 38 games and 137 options. The board also provides Heckler feature to mock bad shots and praise good shots. The only disadvantage for this dart board is that it can serve only four players at the same time. But the cabinet is well done with a high-quality wood. In the package, you will also find soft tip darts, two sets as well as the adapter to power up the electronic dart board.
Barrington Bristle Dartboard Cabinet Set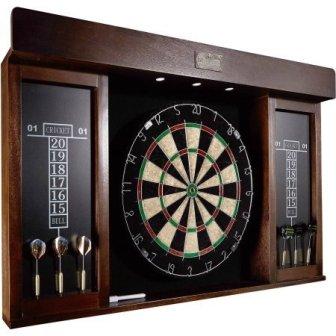 One of the better-looking dart cabinets on the market is made of a light wood but also with a durable material which will last for years. Inside cabinet is an official dart board with staple free bullseye. On each side of the dartboard is a scoreboard for easy follow up of the winners. Scores are inserted manually with a marker. In the package, you will also get two sets of steel darts, and you can start a game of darts as soon as you put the cabinet on the wall. The lovely design and colors used in this dart cabinet are ideal for any game room or entertainment room where people hang out or have parties. A game of darts is perfect for such a room.
Fat Cat Electronx Electronic Soft Tip Dartboard with Cabinet
Fat Cat is the second brand on this list with an electronic dart board inside the cabinet. The cabinet is identical to the Viper Hudson. The board display is almost the same as the one in Viper Hudson, but this dart board is capable of serving up to 8 players. It has 38 games, and you can select between 167 options. In this cabinet, you will also get six soft tip darts, AC power adapter, and one year warranty. This dart board cabinet is ideal for players that wish to have fun playing darts and not bother with counting scores.
Bullshooter by Arachnid Cricket Maxx 1.0 Electronic Dartboard Cabinet Set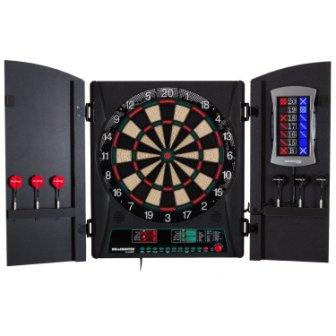 There is already one Bullshooter dart board by Arachnid on the list, and Cricket Maxx 1.0 is not having many differences than the previously mentioned Bullshooter electronic dart board. The significant difference between the two dart boards is an additional Cricket scoreboard on the doors for more comfortable, more visible and faster-counting score when playing Cricket games. Everything else is more or less same as in Bullshooter Marauder 5.0. Maximum 8 players can play darts on this dart board, and there is even a Heckler feature to provide extra entertainment among players and audience. Dart board is capable of playing 34 games with 183 various options. Outside cabinet is made with a walnut finish to provide even outstanding decor for the room.
Imperial Officially Licensed NFL Merchandise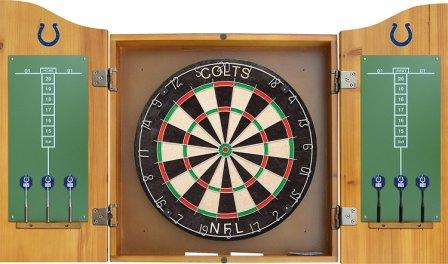 Imperial brings an officially licensed NFL dartboard. This cabinet is coming with bristle dart board which is working best with steel tips darts. The size of the dart board is official, and this size is used on tournaments all over the country. The cabinet is made from solid pine wood, and it has a classic look. You can place this dart board in a living room and will make your room stand out. When ordering you can select a logo from your favorite NFL team. The cabinet is ideal for NFL fans. In the package, you will get two scoreboards with chalk and dry cleaner as well as steel darts with your favorite NFL logo on the flights.
Viper Neptune Electronic Soft Tip Dartboard with Cabinet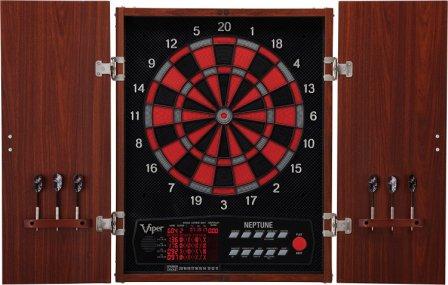 For a more severe darts players who are lazy to manually count score Viper is made a Neptune dart cabinet made of high-quality wood. The electronic dart board is really powerful and includes 57 games with 307 options. On such a high-quality dartboard you can serve 16 players. The target area is official 15,5″ used all over the world in various competitions. Target area also features an ultra-thin spider which greatly reduces bounces. On display, you can follow scores without a problem. The whole cabinet is made of stylish colors which bond together greatly. In the package, you will also get soft tip darts to start playing as soon as you set up the cabinet. The power adapter is also included in the package which means you will not need to bother with batteries. This electronic dart board is ideal for people who wish to have a high-quality premium dart board cabinet which will bring beauty to your gaming room.
Final Thought about Dart Board Cabinets
Cabinets are much more expensive than single dart boards without a cabinet. As already mentioned dart cabinets have their pros, but if you already have dartboard you can buy dartboard cabinet without dartboard. The standard in the industry is to have a dartboard in the cabinet and that how most of the manufacturers sell cabinets. A wooden dartboard cabinet is popular among the players because people who buy cabinet want to have a decor and nobody wants a plastic or metal cabinet when they can have a perfect wooden dartboard cabinet. On the above list, I believe everyone can find an ideal cabinet for their needs and a cabinet that will fit your room. When buying the cabinet a huge part of a selection is decor, style, and colors of the wood. Not all furniture goes together because of that you have many choices to pick the one that fits your furniture at best.